September 10, 2020
MELBOURNE, Australia—"Many shops along the Clayton Road shopping strip, mostly Chinese restaurants, were smashed. Sadly, it is an attack on the local Chinese community and local businesses!" George Hua, a councilor for the City of Kingston wrote on Facebook, earlier this week.
"I strongly condemn such racism and violent behavior. Local businesses are already doing [it] tough through the prolonged lockdown. Now another attack?!"
A racist note was left at a Melbourne store on a strip where many Asian businesses were vandalized.
However, in a statement to Yahoo News Australia, Victoria Police said there was no evidence the note is any way connected to the vandalism. They also added a 28-year-old Clayton South woman was arrested on September 7 for vandalism.
"There is no evidence to suggest the incidents [the damage to the stores] are racially motivated," Victoria Police stated.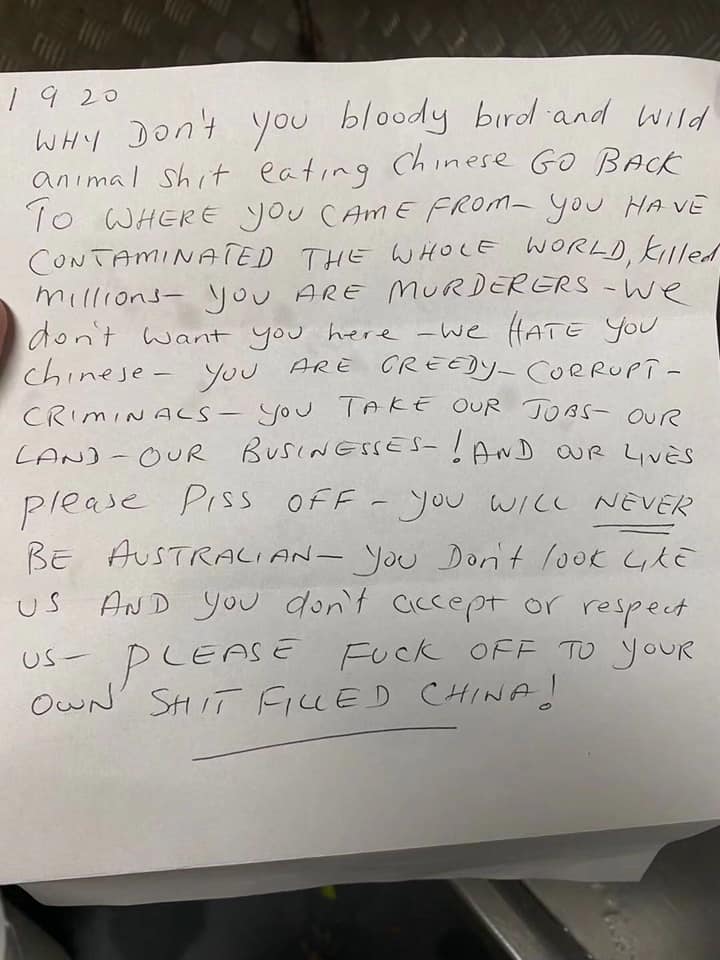 The handwritten note demanded all Chinese people to "go back to where you came from."
Mayor Stuart James of Monash, also shared the note on his Twitter page the other day, condemning the anonymous author.
"I am absolutely filthy and disgusted at the letter below that was posted on a shop window in Clayton not that long ago," James tweeted.
"This country has been built on the back of migrants from all around the world who came here seeking a better life for them and their families."
The mayor also continued to state there was "no place in this country," or in the City of Monash for the racist views the author expressed. "The author of this cowardly anonymous, vile and pathetic attack on a fellow Australian needs to pull his/her head in," James wrote.
There have been several racist attacks toward the Asian-Australians in the area since the start of the coronavirus pandemic.
Feature Image via Herald Sun