July 30, 2020
Multi-Grammy award singer-songwriter Filipino-American Bruno Mars celebrated the 10th anniversary of his very first hit song, "Just The Way You Are." Bruno's real name, Peter Gene Hernandez took to Facebook on Tuesday and shared a Twitter screenshot of his July 20, 2010 post about his first single.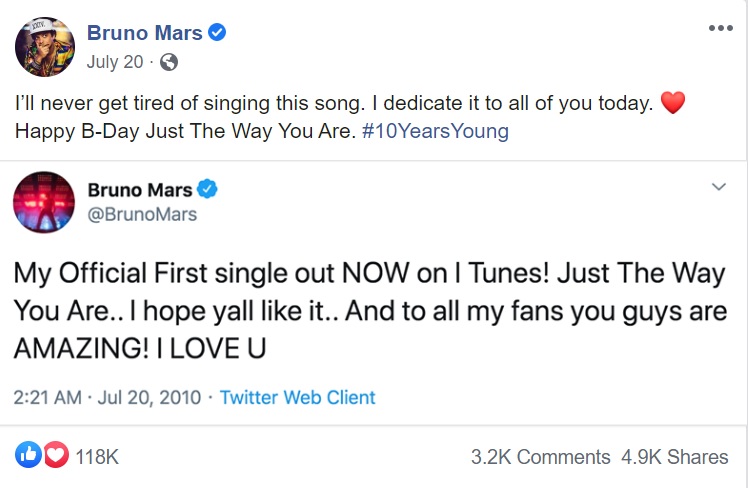 "Just The Way You Are" also ended up being Mars's lead song on his first album, Doo-Wops & Hooligans. Mars ended up winning his first Grammy Award in 2010 for Best Male Pop Performance. Mars has since won an additional 10 Grammy Awards and nominated 27 times in several categories throughout the decade.
In 2019, "Just The Way You Are" was certified diamond by the Recording Industry Association of America after selling at least 10 million units between physical sales and streams.
Bruno Mars was the subject of heated debates back in 2018 after winning several Grammy Awards. Some African-Americans disliked Mars's cultural appropriation of their culture and some called him a "karaoke singer for Michael Jackson and Prince covers" because he's Asian and not black. Basically black inventions and culture are strictly for black people and Asian and Caucasian advancements in science are for everyone.
Bruno Mars is a welcomed addition to other famous Asian singers. From Indian-Parsi Freddie Mercury, half-Filipino Enrique Iglesias, Filipino-Hawaiian-Russian Nicole Scherzinger from the Pussycat Dolls, half-Filipino Hailee Steinfield, and much more.
Feature Image via Instagram