July 26, 2020
During a live stream interview on July 25, Saturday, former Daredevil series actor Peter Shinkoda who played Nobu on the hit Netflix show dropped a bombshell. Shinkoda alleged Jeph Loeb, former Vice President of Marvel prevented his character from developing any further in the show against writers' wishes. "Jeph Loeb told the writers not to write for Nobu and Gao [Wai Ching Ho]," stated Shinkoda.
"And this was reiterated many times by many of the writers and show writers….Nobody cares about Chinese people and Asian people. There were three previous Marvel movies a trilogy called 'Blade' that was made where Wesley Snipes kills 200 Asians each movie, nobody gives a sh*t, so don't write about Nobu and Gao and they were forced to put their storyline down and drop it."
Shinkoda continued to explain "I have privy to that storyline because they [writers] explained it to me and they were very apologetic that they couldn't follow through with it but they were…their hands were tied."
Shinkoda's explanation about the situation starts at 10:00 min
Other co-stars on the show allegedly came forward via Reddit:
"I'm an Asian American actor and I played a supporting character on Daredevil, and this definitely checks out.
Me and my co-star's lines were all in Japanese, which was fine because we're both fluent.
But when my episode came out, I noticed one of my co-star's lines was sloppily edited where it abruptly ends mid-sentence (?!) and the rest of the sentence was randomly slapped in later in a scene neither of us were in. Wtf?
Absolutely zero consideration for the Japanese language (that we were hired to perform!). Makes sense coming from the guy in that karate gi."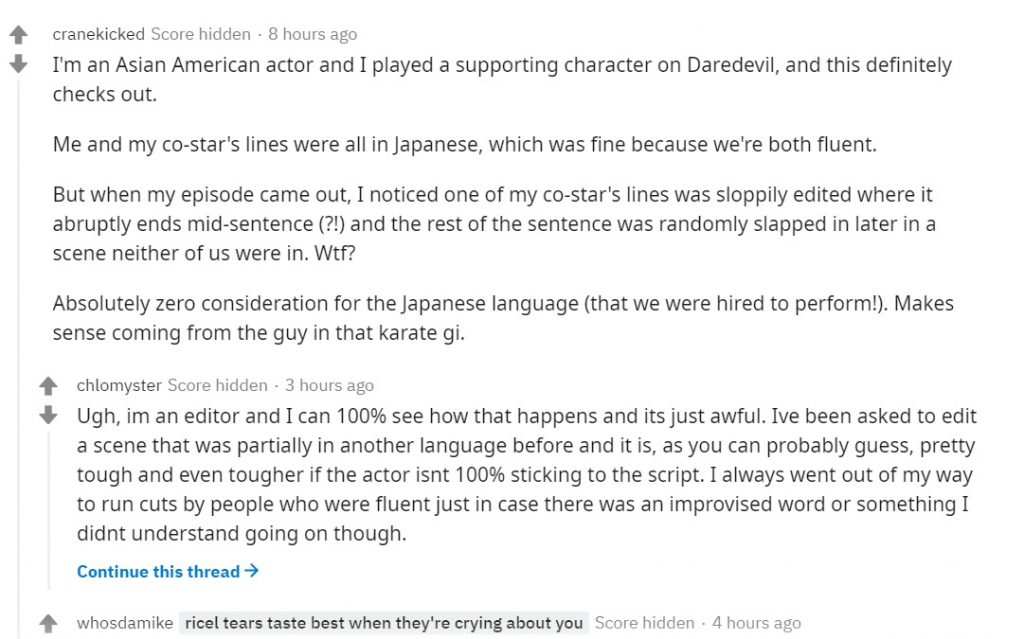 These allegations come as no surprise to many Asian-Americans. Hollywood, the supposed liberal beacon of self-righteousness is actually one of the most racist institutions in America. The "internal racism" many liberals have would probably make the most staunched Trump supporter dry-heave.
Most of the stereotypes of Asians were created in Hollywood. The demasculinization of Asian men, the ultra-sexualization portrayal of Asian women. Should we feel sorry if China forces Hollywood to make drastic changes to their movies to fit the Chinese audience; regardless if studios have to spend millions of more dollars for those changes? Maybe we shouldn't. There is an Asian religious term many people like to use. It's called "karma."
Feature Screenshots & Image via YouTube & IMDB