August 22, 2023
LAKE ARROWHEAD, CA—Authorities identified the man who shot and killed a California business owner last week after he allegedly took issue with a Pride flag she had displayed at her clothing store.
Travis Ikeguchi, 27, shot and killed 66-year-old Laura Ann Carleton after "yelling many homophobic slurs" about the store's Pride flag on Friday, San Bernardino County Sheriff Shannon Dicus stated during a news conference on Monday.
Ikeguchi fled Carleton's store, Mag Pi, by foot and was later shot and killed by deputies on Friday during "a lethal force encounter." Ikeguchi fired at multiple patrol vehicles with an unregistered pistol before authorities fatally shot him, reports NBC News.
The 27-year-old Japanese-American often posted references to religion, anti-democracy, and anti-police rants on GAB, a blogging site, according to Daily Mail.
"America must repent for a lot of things we allow; abortion/baby killing, sexual immorality, pornography, same-sex marriages, LGBTQP/pedophilia, freemasonry, religiosity, politics, wars, colonialism, the federal reserve," he wrote in a post.
"We allow the Federal Reserve to make a profit off of these abominations, we allow the Judicial supremacist groups to make decisions for us and we don't notice it. There is no political solution. We must repent and accept Christ in our hearts. Share this to others, please!"
On August 5, Ikeguchi referenced LGBTQ people:
"Even though this f***** doesn't like to be labeled as LGBTQP, he is still a f***** and we should allow f***** in our society anyway even if they don't to be called these mentally ill pronouns," he wrote on a video by Amal Ekpunobi.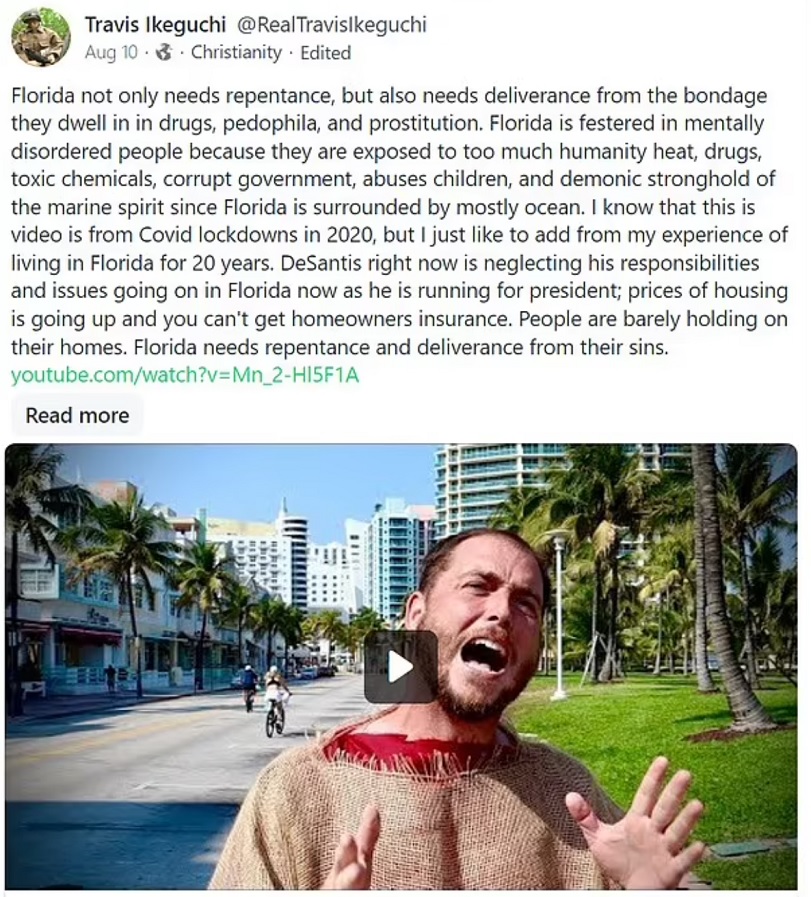 Carleton was a mother of nine. She split time between her kids and husband in Lake Arrowhead, where her family owned a restored 1920s Fisherman's Cabin.
Feature Screenshots via YouTube