April 21, 2022
WESTMINSTER, California—Dozens of representatives from various Asian-American and Pacific Islander organizations along with Orange County entrepreneur James Mai picketed in front of Democratic Congressional candidate Jay Chen's office on Wednesday, April 20, and demanded an apology.
"We're waiting for an apology. Come on down," James Mai said through a speaker system.
Jay Chen recently made headlines after making racist comments toward Republican Rep. Michelle Steel while speaking at an April 7 meet-and-greet in the Congregation B'nai Tzedek synagogue in Fountain Valley, California.
"Yeah, so she just had another town hall the other day. And, umm, it's tough. Like, we've transcribed it," Chen said.
"You kind of need an interpreter to figure out exactly what she's saying," the Democrat added, drawing laughter from the crowd. "The more she speaks, the better for us."
Chen is the son of Taiwanese immigrants and it's safe to assume, that other people will need an interpreter to figure out what they're saying when Chen isn't translating for them. Steel speaks three languages: Korean, Japanese, and English.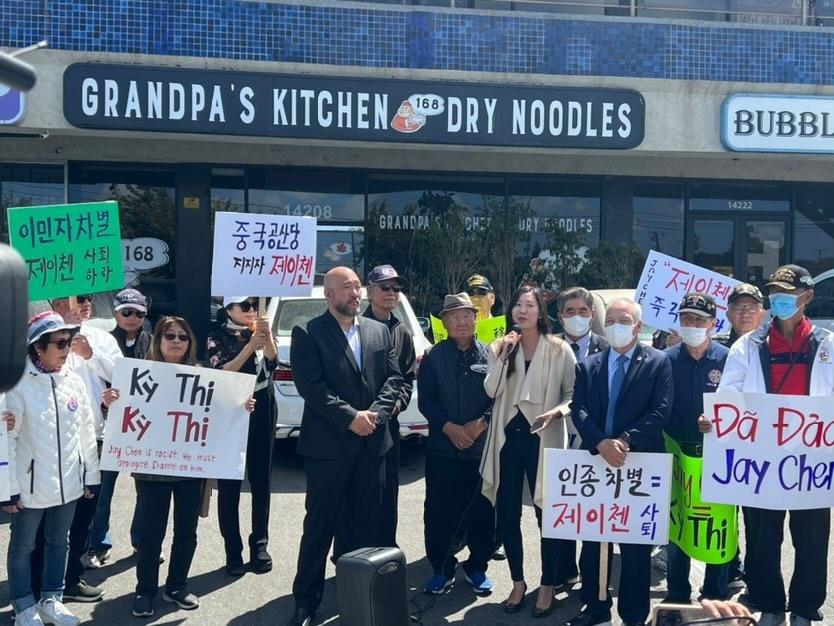 Steel is a first-generation Korean-American. Her English doesn't seem so bad, since she was overwhelmingly elected to the Board of Equalization twice, the Board of Supervisors twice, and most recently to Congress.
A spokesman for Steel's campaign condemned Chen's comments as "racist" and called on the Democrat to apologize.
"America is a country built on immigrants," the spokesperson said. "Michelle Steel is a first-generation Korean American who speaks English as her third language, and these despicable, racist comments from Jay Chen have absolutely no place in our community. Chen owes everyone an explanation, particularly following recent reports he continues backing the Chinese Communist Party's Confucius Institutes in our educational system."
Jay Chen has ties to the Chinese Communist Party. According to a Washington Free Beacon report, Chen led the charge as a member of the Hacienda La Puente school board to bring the Confucius Classroom program to the school district back in 2010.
The report states the Confucius Classroom program is bankrolled and operated by the Chinese Ministry of Education and has direct ties to the collegiate Confucius Institute program.
The State Department designated the Confucius Institute program as a Chinese Communist Party (CCP) propaganda arm back in 2020.
This isn't the first time Chen insulted Steel. According to Hon. Fred M. Whitaker, Chairman of the Republican Party of Orange County, Chen was caught on Zoom telling supporters Michelle relies on "talking points fed to her by her husband" last month.
Feature Images via Instagram & Facebook