September 21, 2021
MANHATTAN, New York—The owner of a popular Manhattan restaurant stands by his employee on Friday and blasted the three African-American women from Texas charged with attacking the restaurant's hostess for demanding to see proof they were vaccinated against COVID-19.
The incident happened last Thursday when three African-American women from Texas decided to dine at Carmine's, a popular Italian restaurant in Manhattan. All three women showed proof of vaccination—which is a New York City requirement now—and were allowed to enter the restaurant.
However, three male friends of the African-American women showed up a little later and were refused entry because they did not show proof of vaccination. The party as a whole was offered seats outside instead.
The women claim the 24-year-old Asian-American hostess who refused entry to the male party was being "rude" and said the "N-word" before lunging at them first.
A viral video shows the group of African-American women physically assaulting the Asian-American hostess while she's screaming, "Oh my god, what the f**k!?"
49-year-old Sally Recehelle Lewis of Houston, 44-year-old Kaeita Nkeenge Rankin, and 21-year-old Tyonnie Keshay Rankin, both of Humble, Texas, were charged with assault and criminal mischief. The three women were released without bail soon after.
In response, Black Lives Matter New York uploaded an Instagram post stating they will protest Carmine's on Monday, September 20, and falsely stated the hostess who started it all was "White."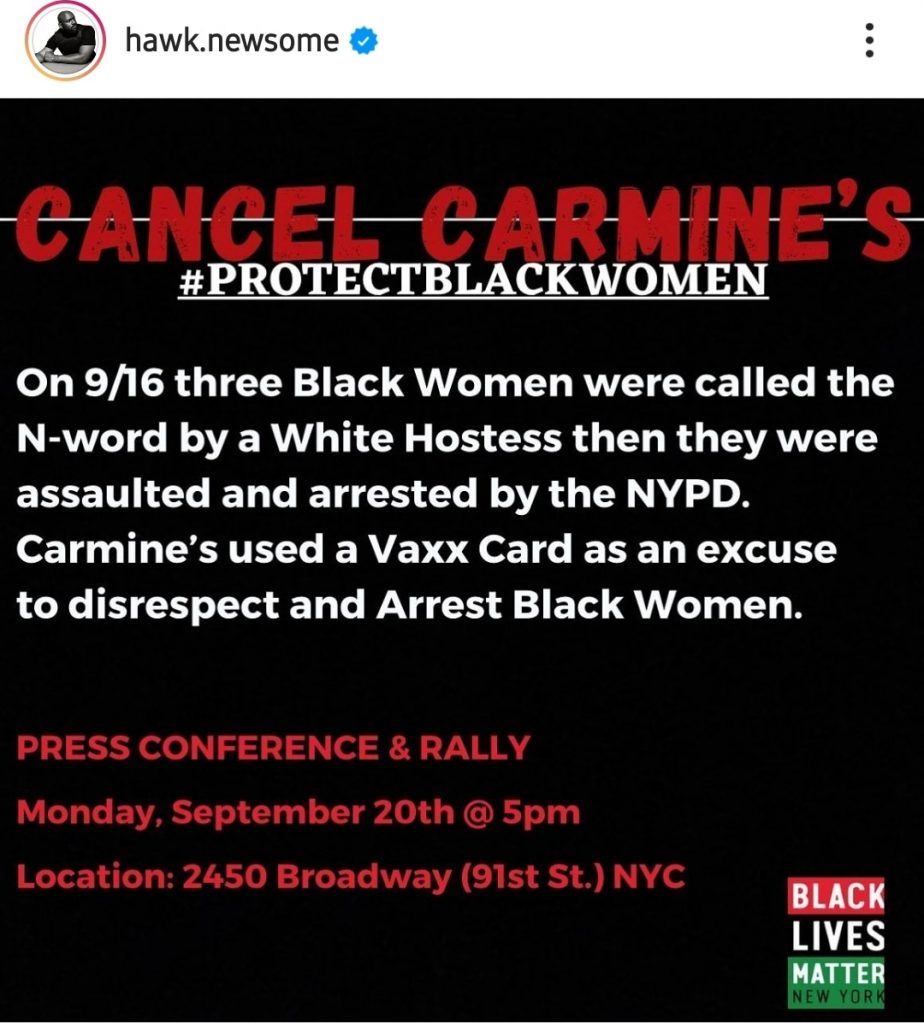 On Monday, over 30 members of Black Lives Matter gathered in front of Carmine's and chanted "Cancel Carmine's," while demanding African-American customers to leave the restaurant.
"After she dropped the N-bomb, the three women did a double-take and followed her out the restaurant," stated Hawk Newsome, co-founder of Black Lives Matter New York.
Newsome and his cohorts demanded Carmine's release security footage of the incident and claimed the restaurant was covering up the truth.
Carmine's almost immediately released the footage to the local media, which clearly shows the three African-American women follow the Asian-American hostess outside and attack her without provocation.
Many witnesses state the women were bitter the other half of their party were not allowed to enter the restaurant and basically got angry they didn't get what they wanted. No racial slur was ever heard leading up to the vicious attack or during it.
During Monday's protest, members of Blacks Lives Matter can be heard screaming "We'll teach you Whites and Asian people a lesson."
According to the NYPD, the three women accused of assault were given desk appearance tickets and are due to return October 5.
Feature Screenshots via Instagram