June 9, 2021
"The FIVB Disciplinary Panel Sub-Committee, which is the independent body competent to impose disciplinary sanctions within FIVB competitions, has found that Ms Sanja Djurdjevic, a player of the Serbia women's national volleyball team, violated the FIVB Disciplinary Regulations following a gesture made during the Volleyball Nations League (VNL) 2021 match between Serbia and Thailand on 1 June 2021.
Ms Sanja Djurdjevic has received a two-match suspension. The player will serve her match suspensions during the VNL 2021 matches and will therefore miss Serbia's match on 8 and 12 June 2021 against Belgium and Canada respectively. In addition, the Volleyball Federation of Serbia has been fined CHF 20'000. The FIVB will donate the fine to a cause dedicated to tackling discriminatory behaviour and/or to fund educational programmes on cultural sensitivity for the global Volleyball Family.
In light of the in-competition nature of the offence, the proceedings were conducted in an expedited manner. The FIVB Disciplinary Panel Sub-Committee reserves the right to re-open the proceedings if the player fails to serve her sanction. The sanction is final.
The FIVB is committed to fostering understanding, solidarity and unity against all forms of discriminatory behaviour. The FIVB will continue to work tirelessly with all of its National Federations to ensure that these values are reflected across the whole community," stated the FIVB.
The Volleyball Federation of Serbia officially apologized to Thailand's team and fans after Serbian player Sanja Djurdevic made "slanty eyes" gesture on television to humiliate a Thai player's failure to score a point during a FIVB Volleyball Nations League match last Friday.
The Serbians also urged Thais not to "blow this out of proportion."
"Slanty eyes" are often used by European soccer players to openly mock Asian players and are fully aware it's used as an insult. Athletes of all colors are guilty of using this insult, but can't take racial insults from Asians when they're on the receiving end.
Sanja Djurdevic also uploaded her own fake apology on Instagram. The comment section has been disabled after being bombarded by thousands of angry Asians. Djurdevic was eventually forced to close her IG account after receiving an ungodly amount of death threats.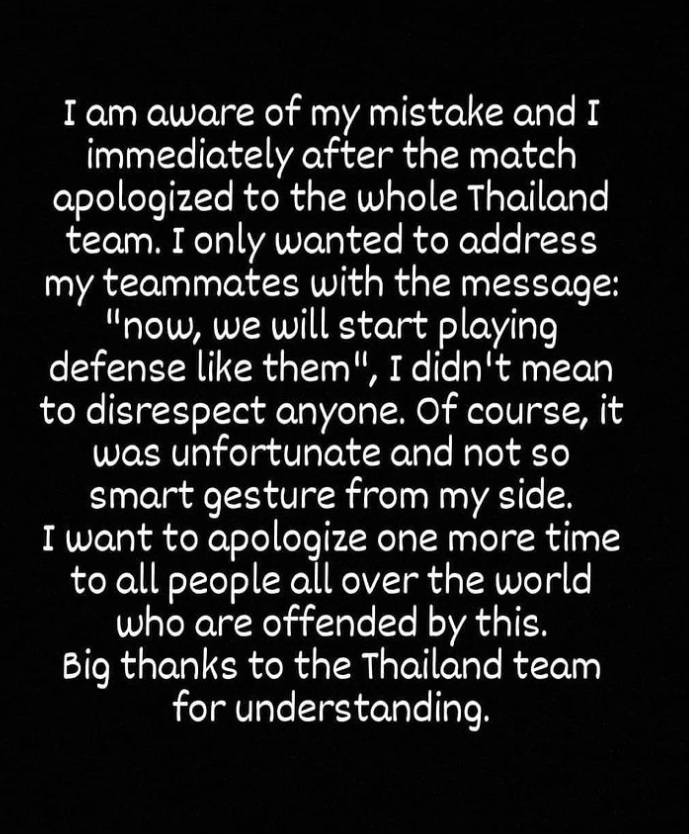 Further proof the Serbian's apology means nothing, they made the same gesture back in 2017, during an International Volleyball Federation competition.
Feature Screenshot via FIVB