March 19, 2021
SAN FRANCISCO, California—An elderly Asian woman was attacked on Market Street in San Francisco Wednesday, March 17. She was the latest victim in a wave of attacks on Asians across the country, especially in the Bay Area.
However, this elderly Asian woman, in particular, managed to turn the tables on her assailant, leaving him with injuries that required a trip to the hospital, according to KPIX 5.
The incident happened at Market St. and Charles J. Brenham Place near McAllister St. at around 10:30 a.m. San Francisco police said they are investigating an aggravated assault by a man who appears to be in his 30s on a 70-year-old woman.
"There was a guy on a stretcher and a frustrated angry woman with a stick in her hand," Dennis O'Donnell of KPIX 5 stated.
The victim appears to have suffered an injury to the side of her face and eye and was seen holding an ice pack to her face. Police said both the assailant and the victim were taken to a hospital for treatment.
Witnesses told KPIX 5 they saw the woman pummeling the assailant. In a video taken at the scene, the alleged assailant is handcuffed to a stretcher with his face bloodied. The sobbing victim appears to berate the man and wave what looks to be a wooden board at him as he's being taken away.
"You bum, why did you hit me?" the woman said to the man on the stretcher in Chinese.
The woman then turned to the crowd of people who had gathered, saying, "This bum, he hit me," as she raised the stick she held and sobbed. "He hit me, this bum," she repeated.
The woman added that she had been leaning against a light pole and all of a sudden, the man punched her without provocation, according to KPIX 5.
"The woman said that she was hit," O'Donnell says. "She attacked back. From what I could see, she wanted more of the guy on the stretcher and the police were holding her back."
Police did not disclose a motive for the attack and it was not clear whether the victim's race had anything to do with the assault. Officers also say there was a second victim this morning, an 83-year-old Asian man.
A 39-year-old man is now being investigated for both attacks, and police say they are working to determine if bias was a factor.
The woman's grandson set up a GoFundMe page on her behalf a day ago and has since raised more than $578,000.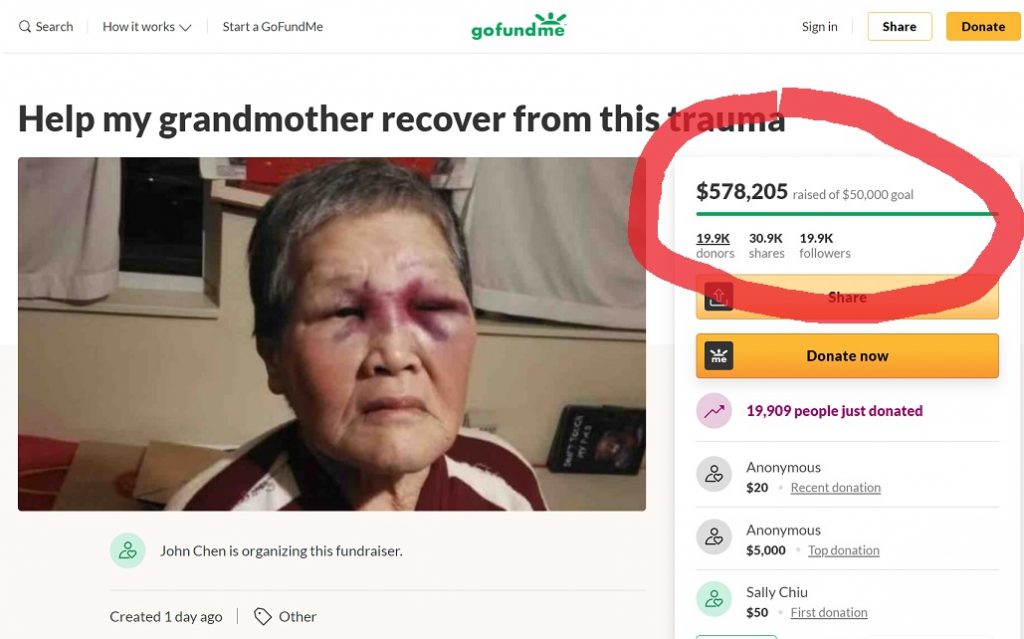 "Hi everyone, I am fundraising for my grandmother that was racially attacked today on 3-17-21 market street. I am amazed by her bravery. She was the one that defended herself from this unprovoked attack. But she is now suffering two serious black eyes and one that is bleeding unstoppably. Her wrist has also swelled up. She has been severely affected mentally, physically, and emotionally. She also stated that she is afraid to step out of her home from now on. This traumatic event has left her with PTSD. Although she has health insurance that covers the basics, there are still many medical expenses that cannot be covered on her own. She is a cancer survivor and she also has had diabetes for over 10 years now. The funds that we receive will be used to cover her medical expenses, her therapy treatment, and her bills that we will have to pay constantly from now on. We want to thank everyone that is donating and that has shown my family massive support through this very traumatic event. My heart is with all the other elderly asians that has also been seriously injured or killed in this wave of attacks towards the asian community."
Feature Images via KPIX 5 & GoFundMe