October 15, 2020
SAN FRANCISCO, California—Lowell High School has been considered one of the best high schools in the country for decades and like the best high school in the country, Thomas Jefferson High School for Science and Technology in Virginia; Lowell is overwhelmingly Asian.
Lowell is about 61% Asian, 18% White, 11% Hispanic, 8% Other, and 2% Black. That last number is the problem. African-American coalitions have tried to change Lowell's admissions' process from grade and test scores to a more "fair" system for decades.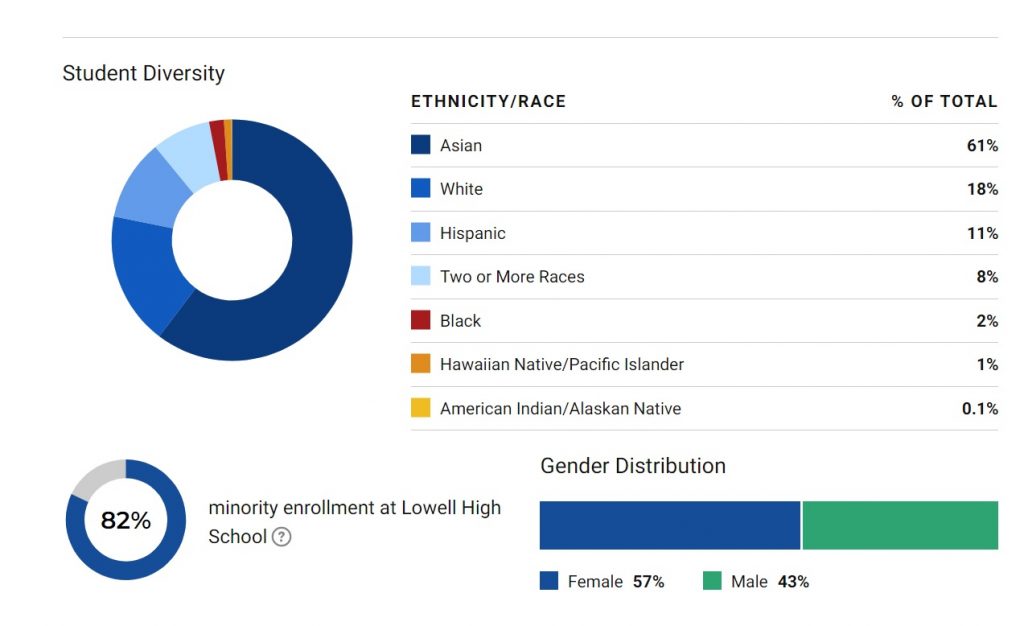 Asian-American students are considered white-adjacent and walking proof grades and test scores are a form of "white supremacy." According to ABC 7, because of the COVID-19 pandemic, grades and test scores have been eliminated, and entering freshman will have an equal opportunity to attend the public school through a lottery—for one school year only.
"This is to me, an exciting opportunity," Gabriela Lopez, a former SFUSD teacher and now vice president of the San Francisco Board of Education stated to ABC 7.
When Lopez was asked if she would like Lowell to implement a lottery system permanently, she replied, "Yes, and in any future vote, if that comes up, I will vote yes."
Since the lottery system announcement, over 4,000 people have signed a petition urging the district to "explore options for admissions," according to Hoodline. Parents not being informed about the possible decision beforehand didn't help the situation either.
"San Francisco families caught off guard by the proposal for a 100% lottery admission at Lowell would like to know the district has exhausted all options to maintain the academic legacy at Lowell High School. Parents, students, and alumni are worried that the transition will become permanent and remove one of the two remaining academic and merit-based public high schools in the city," the petition reads.
The petition can be accessed by clicking HERE
Many critics say the proposal for open enrollment through a lottery system would water down Lowell's academic reputation. Many within the African-American community thinks that statement is blatantly racist.
But the fact of the matter is, no majority African-American high school in the United States can outperform a high school overwhelmingly populated by Asian-Americans. You can argue it's because of "slavery" and "white oppression," but the same goes all around the world. There is no school in the African continent that can outperform a majority Asian high school or university anywhere in the world.
Feature Image via San Francisco Chronicle