October 9, 2020
The Justice Department filed a lawsuit on Thursday, October 8, against Yale University, alleging the school violated federal civil rights law by discriminating against Asian-American and Caucasian applicants in undergraduate admissions, according to The Wall Street Journal.
The Justice Department recently finished a two-year investigation in August of this year, concluding that Yale "rejects scores of Asian-American and white applicants each year based on their race, whom it otherwise would admit." The investigation stemmed from a 2016 complaint against Yale, Brown, and Dartmouth.
The Justice Department alleges for the past few decades Yale's "oversized, standardless, intentional use of race has subjected domestic, non-transfer applicants to Yale College to discrimination on the ground of race."
Yale's lawsuit marks the Trump administration's escalation toward elite colleges over their policies of race and admissions. Students for Fair Admissions recently appealed their case against Harvard University after Obama appointed federal judge Allison D. Burroughs sided with Harvard.
The Harvard case is widely believed to eventually reach the Supreme Court, where Conservatives will hold a 6-3 majority after the death of Justice Ginsburg in late September. The Conservative majority will side with Asian-Americans and will likely dismantle affirmative action—one of the very few examples of systemic racism in the United States today.
Yale denies the Justice Department's allegations and stated, "Yale does not discriminate against applicants of any race or ethnicity," President Peter Salovey wrote in an email to students, faculty, and staff. "Our admissions practices are completely fair and lawful. We look forward to defending these policies in court."
President Obama failed to destroy systemic racism since he himself was a beneficiary of affirmative action at Harvard. However, the Trump administration is specifically using the Justice Department's Civil Rights Division to redirect resources toward probing and suing universities over their affirmative-action policies, according to The Wall Street Journal.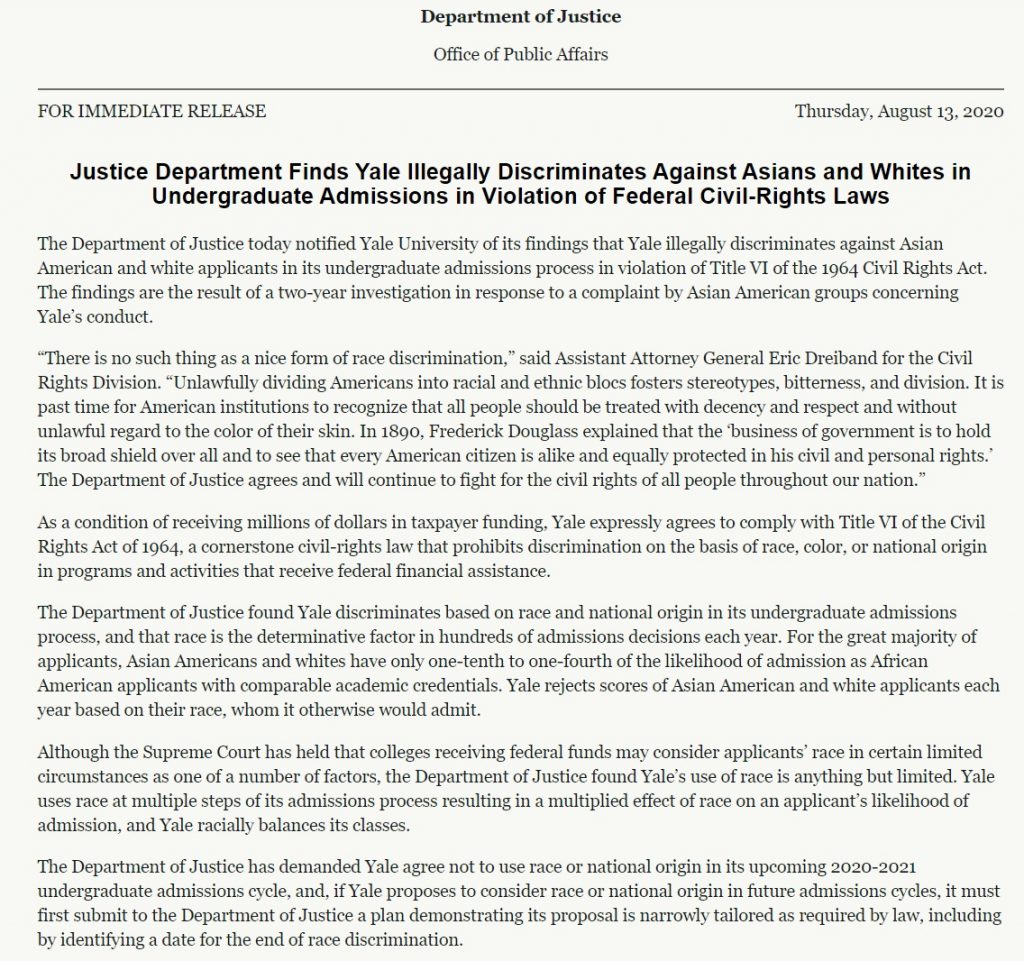 Assistant Attorney General Eric Dreiband stated, "Yale's race discrimination impose undue and unlawful penalties on racially-disfavored applicants, including in particular Asian-American and White applicants," after a two-year investigation.
Prosecutors found that Yale discriminates students based on their race and national origin, especially in its undergraduate program and "that race is the determinative factor in hundreds of admissions decisions each year."
The investigation concluded Asian-American and white students have "only one-tenth to one-fourth of the likelihood of admission as African-American applicants with comparable academic credentials," the Justice Department stated.
Feature Image via CEAS