June 7, 2020
A woman named Brittany Proctor of Washington D.C. posted a Facebook rant back on April 15, which has recently been catching steam. As this article was being written, her post has garnered more than 7,000 shares and over 3,500 comments. Some siding with and others siding against Proctor's views.
Please excuse all the spelling errors. We decided to post her rant in its entirety without paraphrasing.
"Most nails shops making $100,000 a month before this pandemic. Most are Asian owned (typically Vietnamese or Korean) located in black communities hit hard by COVID-19 and haven't donated a cent! Not a mask not a glove not even drop of sanitizer to protect those pretty brown hands they profit so much from!! THEY DO NOT CARE ABOUT US! But when outside opens up, its gon be a STAMPEDE of us in that MF shop screaming "TAKE MY MONEY, I ALREADY KNOW MY COLOR!"
Why only target the Asian community, though? Plenty of other groups of people "take money" from the black community. If an African-American purchased a Mercedes-Benz, a German person takes that money from them. If they purchase an Apple iPhone, a Caucasian-owned company just cleaned them out $1,200, and a South Korean company named Samsung kept at least $300 from that Apple sale.
If they purchased Gucci or Armani clothing, an Italian-owned company just cleaned them out thousands of dollars. Combined, those companies are worth hundreds of billions of dollars and none of them give back any substantial amount to the African-American community. Yet, they're worshipped by the African-American community? That's not mentioning all the African-American celebrities and athletes who move to Caucasian neighborhoods and many, not all, but many don't give back.
Proctor continues "Liquor stores have been deemed essential, and most are Asian owned located in the black communities. They were making great money before the pandemic and still making great money! What have they donated? ABSOLUTELY NOTHING! But we are continuing to stampede up in that bitch buying up all the Patron, which we're getting at a super inflated price because they see us as nothing but a dolla sign."
"Chinese carry outs and corner stores make great money, located in mostly black neighborhoods, ALMOST ALL OF THEIR PROFIT IS FROM US!!! Yet we walk in, ordering from behind bullet proof glass, only for them to be rude to us, snatch our money, and POISON US WITH THEIR FAKE FOOD! (I can't lie I'm weak for a 4 piece w/ fries saltpepperketchupmumbosauce and a peach soda)"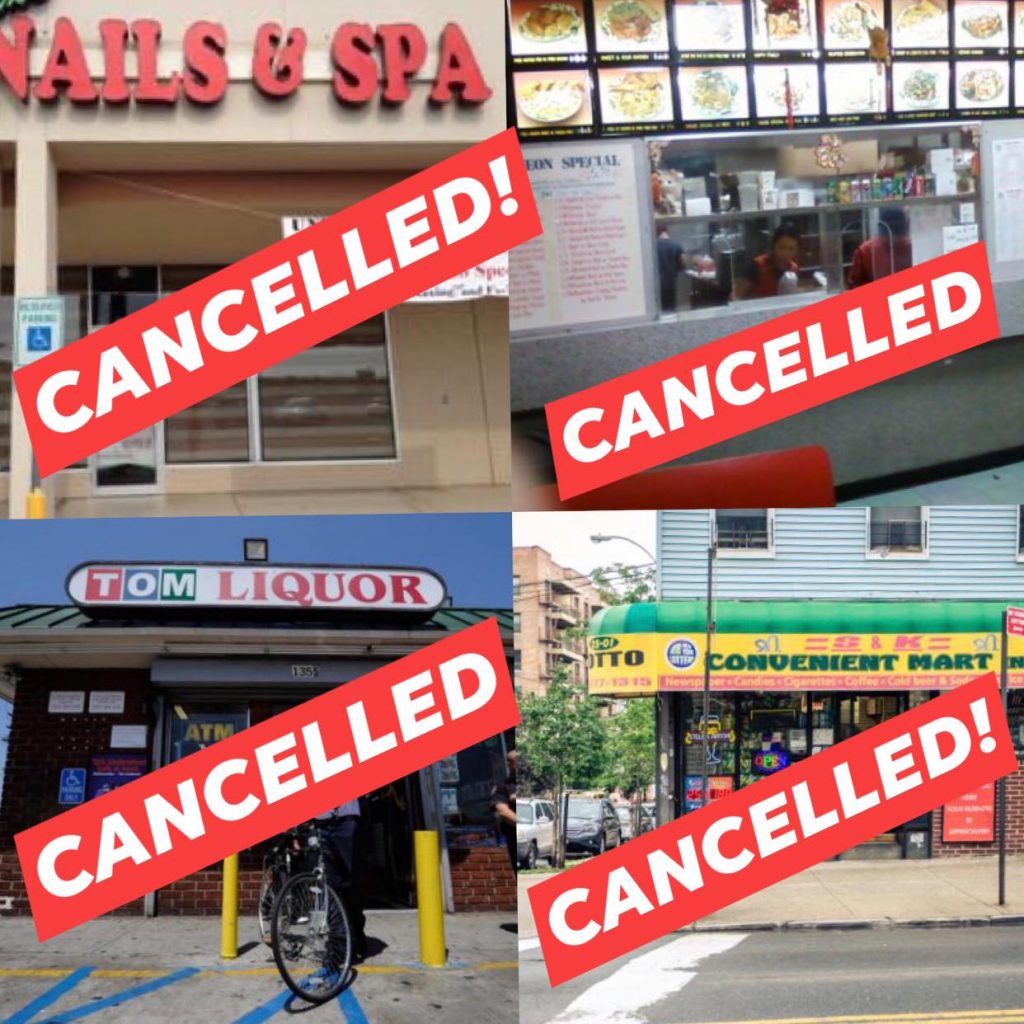 "I am not talking down, or shaming, notice how I used US/WE instead of YALL?"
"I AM GUILTY TOO!"
"The Asian community HAS ALWAYS SHOWN US HOW THEY FEEL ABOUT US! Xenophobia from their communities ain't new!"
"My point here is WE FORGIVE TOO EASY! WE SHOW TOO MUCH MERCY!"
"We literally fund all of these businesses, and more, and they give us nothing in return! They treat us poorly, They show us no mercy!! They look out for eachother and eachother only!!!"
"During this time, we should be planning to take our spending power back!!"
"NO FORGIVENESS THIS TIME!"
"DONT GO TO THAT NAIL SHOP!"
"I understand the dire urge to feel pretty and well-kept. There are more and more black/brown nail artists emerging every day! And they fire! It's plenty of black/brown girls learning to do nails in lockdown. Give them a shot! Maybe It won't be as perfect, but give her a chance to better herself through experience. Encourage your friends in esthetics school! We need y'all!"
"You and your friends wanna go into business? OPEN A LIQUOR STORE together. Stock that MF with black/brown owned distilleries/breweries before you stock commercial brands. FORCE US TO BUY BLACK!"
"It's time to CANCEL them from our programming!"
"The whole entire world runs off our mercy! Our quickness to forgive!"
"But why be bitter, when we can just BE BETTER!?!?"
"This post is not about boycotting, nor is it about racism."
"I reiterate, the point is we should be investing in our community! We all have valuable and profitable skills!"
Proctor ends with "Why is it that we can fund everyone else's community but our own? WE HAVE SO MUCH SPENDING POWER! So let's use it to make us better! We don't have to boycott, we can open more businesses in our community that provide the exact same services! How does that equal boycott?"
"WHY DOES SELF LOVE TRANSLATE TO HATRED OF EVERYONE ELSE??"
"A great number of immigrants (of all races) sacrifice everything to come here to make money for their families in their native country. They keep their money in their communities!!!!"
"What is the problem with doing the same? WHY IS IT SO HARD TO FATHOM A COHESIVE BLACK COMMUNITY!?!? MAKE ME UNDERSTAND"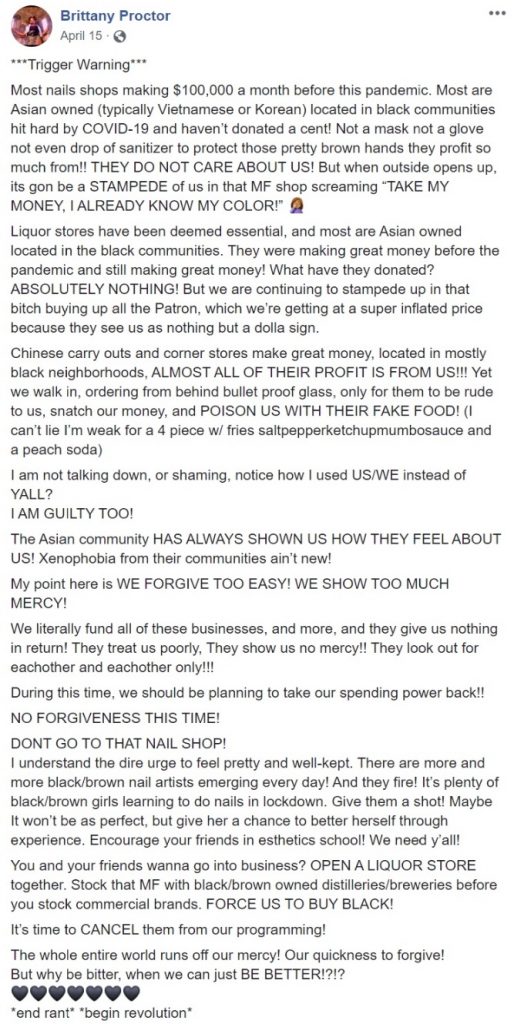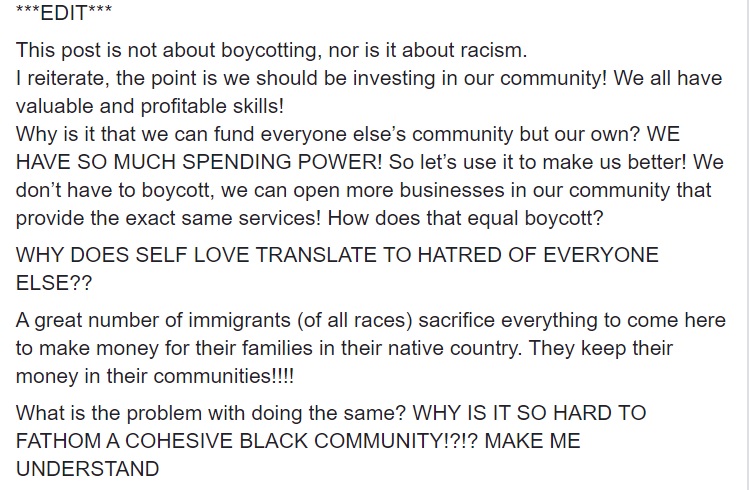 Feature Images via Brittany Proctor