November 16, 2021
NPR (National Public Radio) apologized and deleted a tweet on Tuesday, which promoted "disappointment" Michelle Wu became the first person of color to win the Boston mayoral election instead of an African-American person, saying the outcome was "causing harm."
Michelle Wu had to go to great lengths to please her liberal Caucasian masters to win the race, being the obedient liberal candidate that she is, she uses her maiden name, "Wu" so she wouldn't come across as "white adjacent." Her husband is Conor Pewarski. Her last name is Pewarski now, not Wu.
Michelle Wu is also willing to throw hardworking Asian students under the bus by eliminating the BPS exam for school admissions into Boston's elite high schools.
We realize we don't always get things right the first time, and our previous tweet/headline misrepresented the story.

We deleted the previous tweet, which was causing harm, and have updated the story

— NPR (@NPR) November 16, 2021
Caucasian students are currently 44.5% of those admitted into elite Boston high schools. Asians make up 29.3% of students, while only being 9% of the district's population, according to Boston.com.
Wu considers school exams racist because of the lack of African-American and Latino students capable of passing the entrance exams into Boston Latin Academy, Boston Latin School, and John D. O'Bryant School of Mathematics and Science.
Even as Wu supports the liberal agenda, NPR still wrote they're disappointed with her winning the race.
"For the first time in its history, Boston is inaugurating a newly-elected mayor on Tuesday who is not a white man. Michelle Wu – who's Asian American — is the first woman and first person of color elected to lead the city. While many are hailing it as a major turning point, others see it as more of a disappointment that the three Black candidates in the race couldn't even come close," NPR wrote.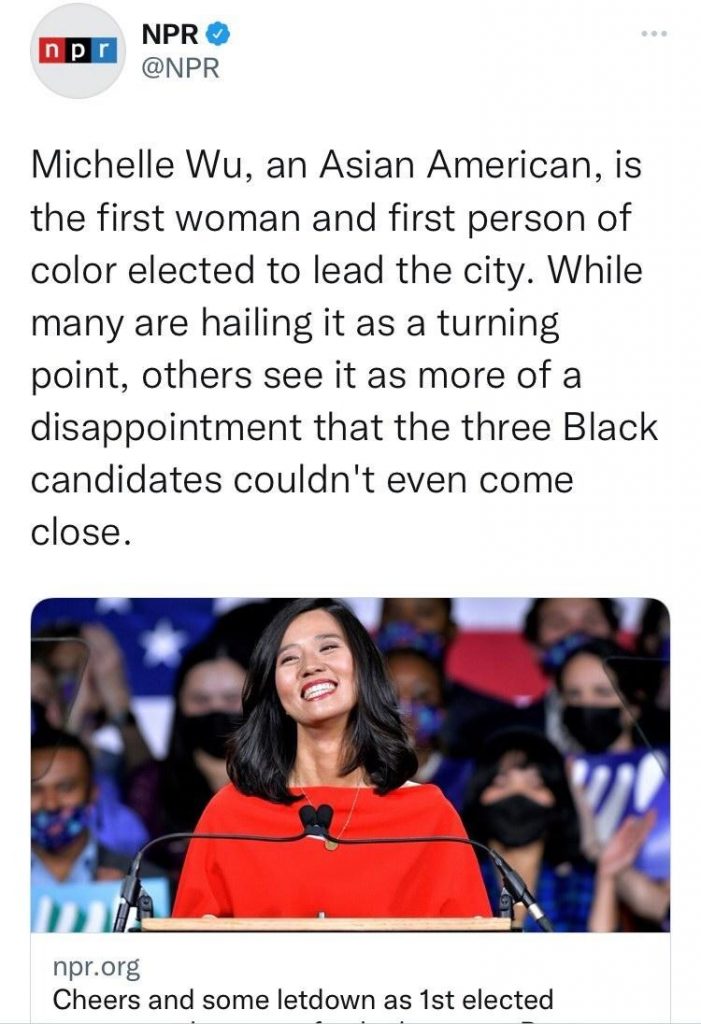 "Many in Boston were hopeful that this would be the year, in this time of racial reckoning, that Boston might elect its first Black mayor, as most of the nation's 30 largest cities have already done."
However, Wu and millions of Asians like her will continue to brown nose their Caucasian and African-American liberal masters and continue to throw their own people under the bus.
NPR has also never apologized for vilifying the Japanese whaling industry when they were fully aware Norway kills more whales than Japan and Iceland combined, annually. European nations combined, kill more than 3.5x more whales than Japan, annually.
The evidence indicates Asians who don't completely comply with the liberal agenda will be vilified by NPR. That agenda includes not obeying environmental laws (even though Europeans do far more harm) or winning a mayoral race while being Asian.
Feature Screenshot via Michelle Wu Twitter