March 12, 2023
LOS ANGELES, CA—Authorities are searching for four suspects wanted in connection with an alleged hate crime attack on a man in a Koreatown neighborhood.
The beating happened on February 26 around 7:10 p.m. on the MTA train platform at the Wilshire/Western Station located at 3775 Wilshire Boulevard, according to the LAPD.
Four suspects approached the victim as he was waiting for the train.
They then began punching him in the face until he lost consciousness while screaming racial slurs. The suspects continued to punch and kick the victim even as he began to regain consciousness, reports FOX11.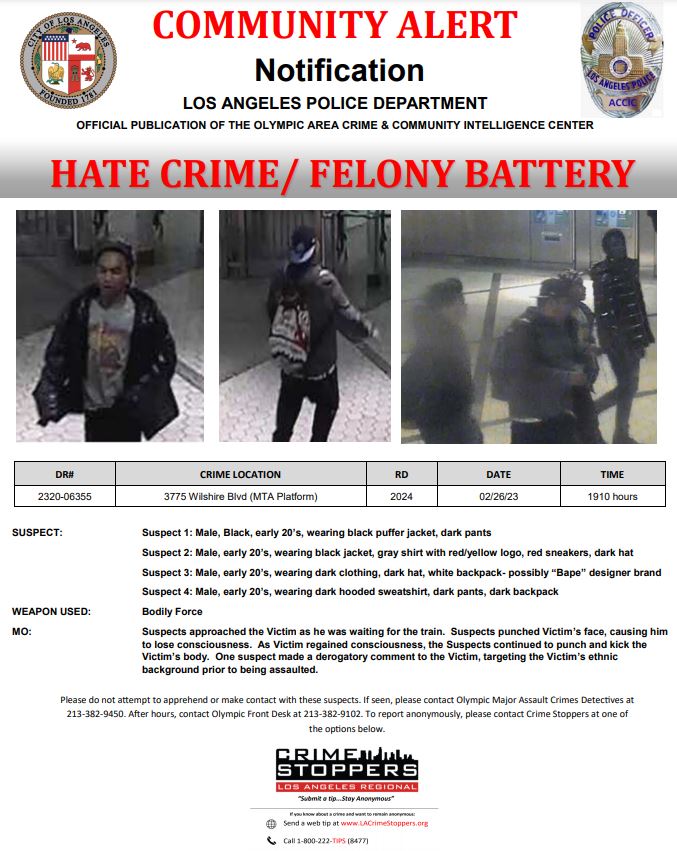 All four suspects are described to be dark-skinned men in their early 20s, wearing dark clothing.
Anyone with information was asked to call police at 877-LAPD-247 or Crime Stoppers at 800-222-8477.
Feature Screenshots via LAPD Twitter