January 22, 2023
MONTEREY PARK, CA—Ten people are dead and 10 others were wounded in a mass shooting at a dance studio in Monterey Park. The suspect is still on the loose.
Los Angeles County Sheriff Robert Luna stated during a Sunday morning press conference that the suspect is described as an Asian man between 30 to 50 years old. A more detailed description is not available, according to ABC7.
The shooting happened at about 10 p.m. Saturday. The suspect entered the dance studio on West Garvey Avenue and opened fire.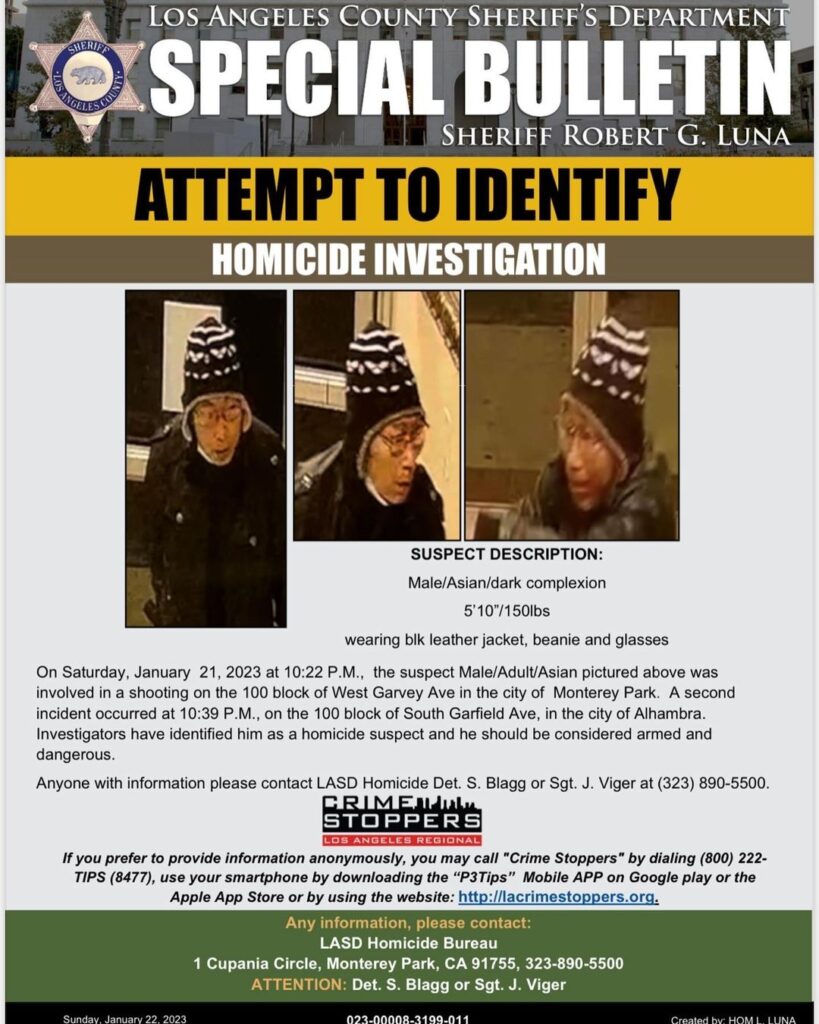 Initial reports of the shooting happening at a Lunar New Year festival were wrong. The shooting was specifically concentrated at the dance studio and not the nearby festival.
Police said a second incident at another ballroom in nearby Alhambra may be connected to the mass shooting. Detectives cleared the Alhambra scene around 7 a.m. and stated no injuries were reported, reports ABC7.
The second shooting happened about 20 minutes after the shooting in Monterey Park, a "male Asian suspect walked in with a firearm and some individuals wrestled the firearm away," Luna stated.
The suspect then fled the scene once he was disarmed. Authorities later recovered the firearm.
No motive for the shooting is yet known and it's unclear if the suspect knew the victims. All injured victims were transported to local hospitals in various conditions ranging from stable to critical.
Five women and five men were among the deceased victims, according to Sheriff Luna.
Monterey Park is a small community with about 61,000 residents; 65% of the residents are Asian. The city is considered to be a safe neighborhood and is known for hosting a large Lunar New Year Festival. Previous festivals brought in over 100,000 daily visitors.
The festival has been canceled for Sunday. Anyone with information is urged to call the Los Angeles County Sheriff's Department's Homicide Bureau at (323) 890-5500. If you prefer to provide information anonymously, you may call Crime Stoppers by dialing (800) 222-TIPS (8477).
Feature Screenshot via FOX10 Phoenix YouTube