August 23, 2022
ORANGE COUNTY, FL—The NAACP's first South Asian leader, who held the post for less than six months, has resigned from the organization, alleging anti-Asian racism from the organization.
Dr. Vanessa Toolsie wrote an extensive post on the organization's Orange County branch Facebook page. In the post, Toolsie stated she would leave the organization after accusing the branch of purposely excluding her from their annual gala, intentionally neglecting received emails, and sabotaging her work with misinformation regarding meetings.
Someone with access to NAACP's Facebook page immediately took down Toolsie's Sunday morning post. However, it was reposted hours later.

"Efforts to shush and silence those speaking up about racism, such as efforts to silence and physically erase a minority South Asian President's resignation entailing racism, instead of efforts to eliminate the racism itself, are further racist. Unfortunately, someone with access to this page oppressively erased this post earlier, and thus it is reposted," wrote NAACP Orange County, FL Branch.
Toolsie noted that "a loud and discriminatory few" repeatedly attacked her South Asian heritage in both emails and meetings. Toolsie is Indian and was born in Trinidad.
"I have tried to resolve this internally for months, but no action to curb the harassment and racist marginalization was taken by superiors prior to my resignation announcement. Thank you to all of the branch Executive Committee members and branch members who have repeatedly tried to stand up for me, loudly and proudly, amidst the constant attacks in emails, at meetings, and otherwise; I truly appreciate you," she wrote.
She later concluded: "However, it would be hypocritical of me to continue to stand at the helm of an organization branch 'for the equality of all persons' that is against racism and oppression, while I continue to be treated with such bold disproportionate inequality, maliciously racistly oppressed as the first AAPI President of the branch to a disproportionate blatant level that I have not yet seen in any organization."
Toolsie's final day as president will be August 31.
Asian-American unity with the African-American community requires Asians to blame everything on Caucasians and agree with the propaganda that 75% of all physical attacks against Asian-Americans are perpetrated by Caucasians, not African-Americans. Multiple left-leaning Asian-American organizations and the media cite a 2020 report titled: Virulent Hate + Reports: Anti-Asian Racism in 2020.
On page 15 of the study, they claim in the year 2020, only three African-Americans attacked Asians in the United States, while 12 Caucasians attacked Asians—accounting for 75% of all attacks.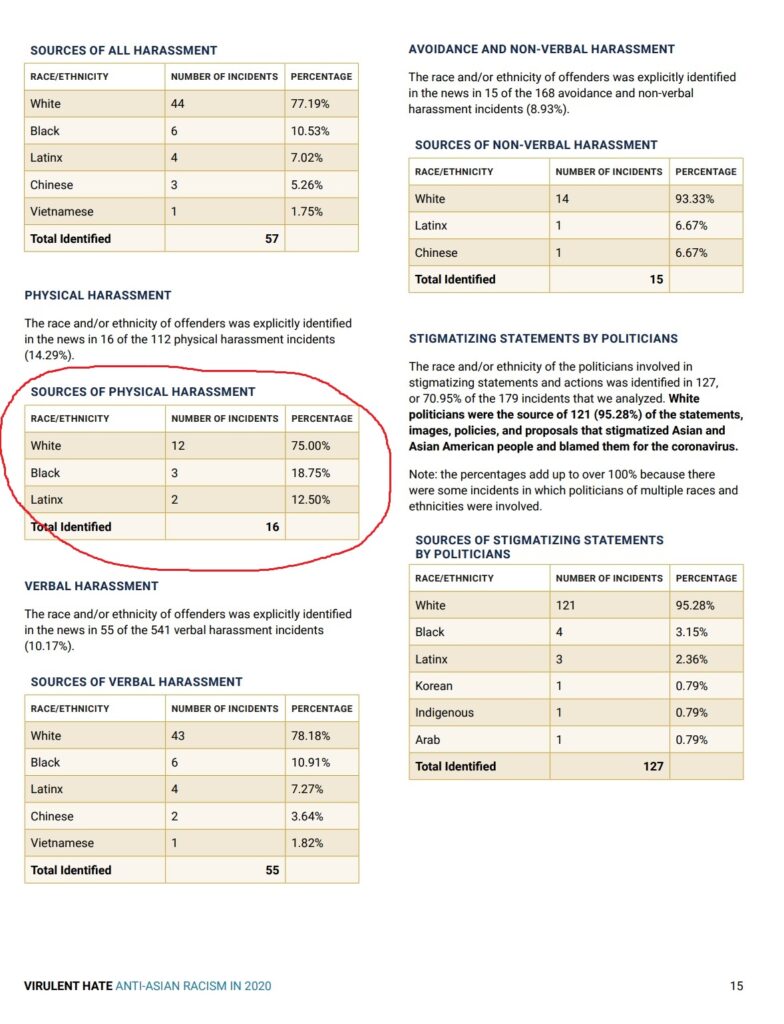 There are over 30 Black-on-Asian violence cases in San Francisco alone in the year 2020, proving the report to be false because they indicate Black-on-Asian violence numbered only three cases in the year 2020. A simple search on ABC7's Dion Lim or New York's CeFaan Kim's archives would debunk that low-number claim.
Feature Image via Zoom