July 7, 2022
MANHATTAN, NY—A Chinese-American tourist was attacked by an African-American man for no apparent reason over the 4th of July weekend in Manhattan. When police arrived, they allegedly told the victim the attack "wasn't a hate crime" and asked him to fill out a report online.
Weixin Chen, a tourist from Seattle, and his girlfriend took the F-line train from the 57th Street subway station to downtown for some sightseeing on July 4th, around 12 p.m., according to World Journal.
Before Chen had a chance to sit down on the subway train, an unidentified African-American man walked straight to him from the end of the carriage and said: "What did you just say? Say it again?"
"I was at a loss when I was asked, and I quickly replied that I didn't say anything," Chen told World Journal.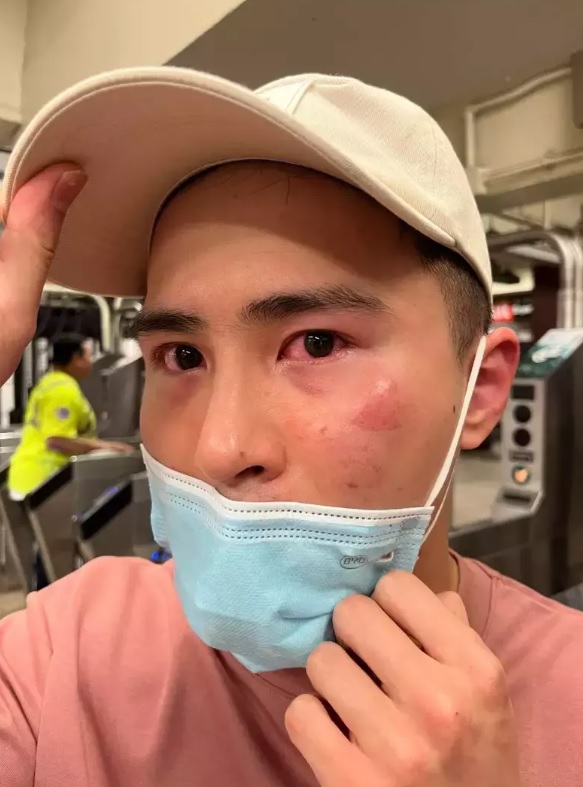 As Chen replied, the African-American assailant punched him in the face and started throwing haymakers.
Thankfully, Chen's girlfriend—armed with pepper spray—started spraying at the assailant, blinding him. However, the assailant kept attacking Chen and rushed toward him several times. The assault ensued until the train reached Rockefeller Center station on 47th Street.
The suspect fled the scene.
Chen was taken to the hospital and described the attack to the police. He was shortly released after being treated for his injuries.
Police allegedly told Chen the random attack doesn't count as a hate crime because no hateful words were said while the assailant attacked him. The only thing he can do is fill out a report online and it would help the NYPD collect data and they would later follow up with him.
Chen told World Journal he was aware of the lawlessness and chaos in New York City, which is why his girlfriend armed herself with pepper spray. However, he found the indifference of the police officers in the city to be unsettling.
Feature Image via World Journal