April 21, 2021
EASTERN CHINA—A Chinese court has officially sentenced an American teacher to death for the "revenge killing" of his former girlfriend on Thursday.
The Ningbo Intermediate People's Court in China's Zhejiang Province has sentenced African-American Shadeed Abdulmateen, who taught English at the Ningbo University of Technology, for intentional homicide, reports the Global Times.
Abdulmateen was accused of stabbing a 21-year-old Chinese woman multiple times in the neck and face. He claimed the killing was because of a relationship dispute back on June 14, 2021.
An initial investigation gave Chinese authorities enough probable cause to arrest Abdulmateen back in mid-2021. After a standard session of CCP "interrogation," Abdul confessed to the murder, which he states happened because of an "emotional dispute," "relationship issues," and "Asians weren't doing what they were told," in reference to a line said by Chris Tucker's character in Rush Hour 2.
Abdulmateen and the 21-year-old engineering student, Chen Shijun, began dating in early 2019.
Apparently, Abdulmateen lied to her about being divorced and single, which wasn't the case. Around May 2021, Chen tried to break off the relationship several times.
Abdulmateen refused to let the relationship end and verbally threatened Chen to do what she was told, reports the Global Times.
Shadeed Abdulmateen has been an English teacher at the engineering institute since 2016. According to online sources, Abdul has a history of harassing girls at the school, harassing them on WeChat, and it got to the point where female students were afraid of attending his class.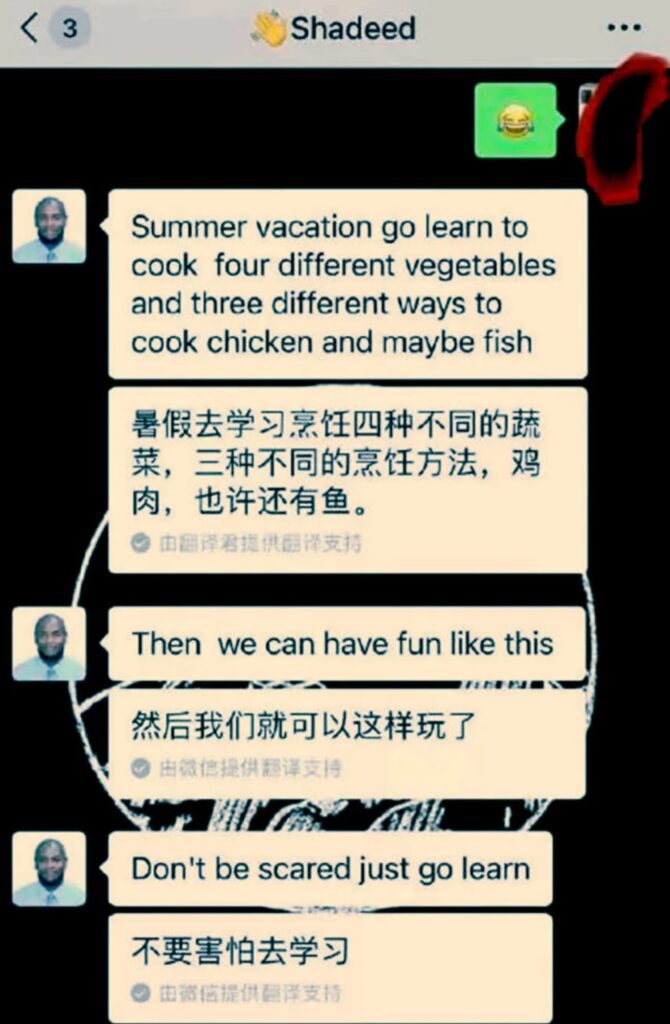 On June 14, 2021, Adbulmateen met Chen at a bus stop near Ningbo. Later that night, he stabbed Chen and sliced her neck repeatedly until she lost the ability to resist.
Infuriated that Chen wanted to end the relationship, Abdulmateen stabbed her in the face several more times—killing her.
"The police took us to see the [body]. At that time, I almost fainted. My daughter had dozens of kni[fe] [wounds] on her face, and a knife [wound] at the main artery of her neck was very deep," one of Chen's parents stated.
The People's Court made clear during Abdulmateen's death sentence his motive was "despicable and cruel." The court reminded the attendants that Abdulmateen was guaranteed a proper defense, had access to an interpreter, consular visits, and other procedural rights in accordance with international law.
The CCP notified the US Embassy and Consulates in China prior to Abdulmateen's death sentence. Abdul will be executed by firing squad.
Feature Image via Weibo