January 11, 2022
TEXAS—Republican candidate for the Texas House and hairdresser, Shelley Luther, recently wrote in a now-deleted tweet that, "Chinese students should be BANNED from attending all Texas universities. No more Communists!" on Wednesday, January 5.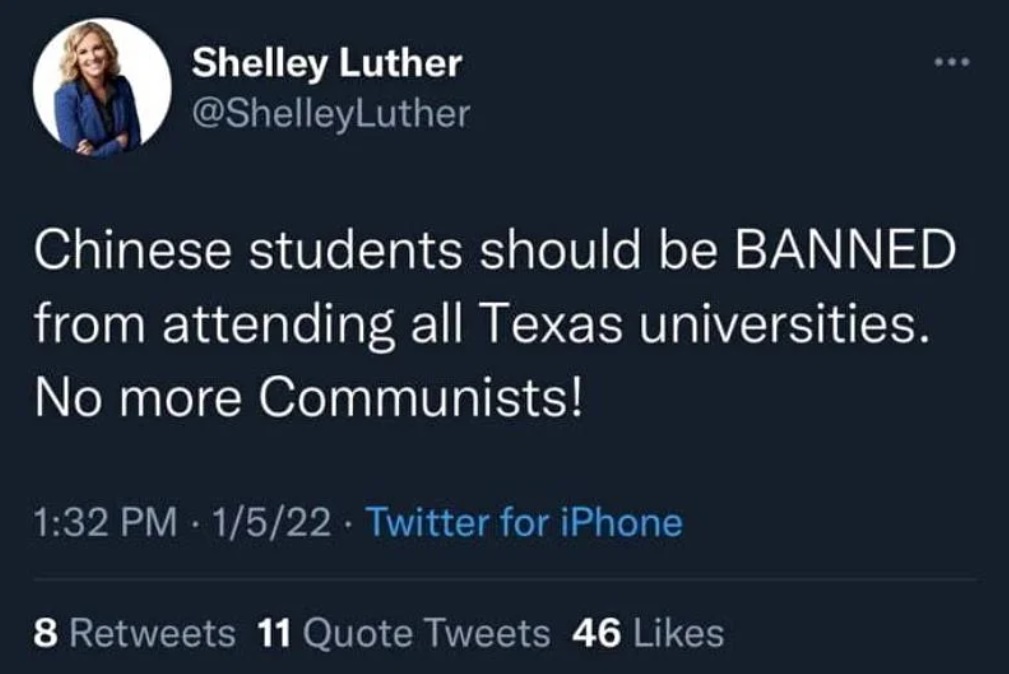 In a follow-up tweet, which is still online, Luther wrote that Texas taxpayers "should not be subsidizing the next generation of CCP leaders," insinuating all Chinese are communists.
Texas Taxpayers should not be subsidizing the next generation of CCP leaders

— Shelley Luther (@ShelleyLuther) January 5, 2022
In a subsequent tweet, Luther said it was "common sense" that CCP members "should not have access to our schools."
On Thursday, January 7, Rep. Gene Wu, a Chinese-American Democrat from Houston publicly called Luther's tweet "racist" and demanded a public apology.
"Luther's statements are ignorant, hateful, and incite violence against not only Chinese-Americans but all Asian-Americans," Wu stated.
"To casually conflate all Chinese students in America with actual registered members of the ruling party in the People's Republic of China is not only ignorance of an extreme nature, it is also the type of rhetoric that drives anti-Asian hate crimes," Wu continued.
In response, Luther stated: "Oh Gene, simping for the CCP isn't cool. I can't wait to kill your bills."
Unfortunately, it is normal for American politicians to throw China under the bus. President Obama often stated borderline racist remarks about China during his re-election campaign against Mitt Romney. Articles were written on why the anti-Chinese rhetoric always ends after election cycles.
The only difference is, Obama was never called out by the media for his anti-China remarks.
Obama often held an arrogant and imperialistic view toward China during his presidency. Chinese and American officials often had altercations during visits, most notably, during the G20 summit in Hangzhou, China back in September 2016.
Feature Images via Twitter