August 10, 2021
SAN FRANCISCO, California—A Filipino man was beaten and robbed inside a Union City Chipotle in San Francisco. The victim's sister, Jasmine Vu, recently released a post on Instagram explaining the incident and her dissatisfaction with Chipotle's handling of the incident.
The whole situation started when a man cut in line in front of Navarone Vu and an argument ensued. However, both men ended up paying for their food and Navarone sat down and ate his meal—thinking the incident was over.
"They both paid for their food and my brother was eating and then the guy kept coming in and out of the Chipotle acting like he needed to go to the bathroom and just like being weird and sketchy about the situation," Jasmine said. "They kept going at it verbally and he was like coming up to my brother and of course my brother is going to square up and be like 'dude back off.'"
Navarone ended up talking to the manager and explained he feared he might be attacked if he goes outside.
The manager then went outside to talk to the other individual but didn't call the police.
Eventually, Navarone ended up exiting Chipotle and was immediately attacked and robbed of his speakers. He pleaded to the manager for help and didn't get any.
"Basically he (manager) told my brother he's just as bad as the guy that punched him multiple times in the face and head and stole his speaker," Jasmine said. "… I don't think my brother is equal to a criminal like that."
During the attack, the assailant said Asian men have "little d**ks."
Infuriated after hearing what happened, Jasmine called corporate and ended up getting "victim-blamed." Corporate also refused to release the surveillance footage to police because customer support required a subpoena to do so.
Disgusted by Chipotle's response, Jasmine posted the entire story on Instagram, which was then shared by Jackfroot first and then Asian Dawn.
Shortly after, Chipotle issued an apology and handed over the surveillance footage to the police without requiring a subpoena.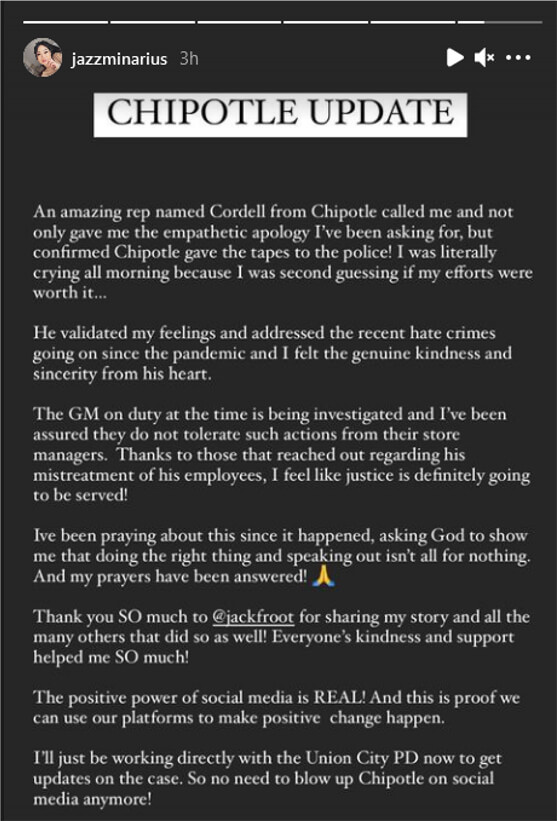 "They apologized to me and confirmed they gave the tapes to the cops—this is all that I wanted! The general manager is under investigation for not only mishandling the situation with my brother, but other allegations from past employees," Jasmine wrote.
Screenshots via Instagram