July 6, 2021
SAN FRANCISCO, California—Progressive District Attorney Chesa Boudin, child of Weather Underground radicals, recently stated, "The folks behind the recall are simply trying to undo the will of the people. We had a democratic election and sadly Trump has left this country with not just the coronavirus but also a virus of refusing to accept the outcome of elections," during a press conference in Chinatown.
Boudin is of course addressing an active campaign to have him recalled, which requires a minimum of 51,325 valid signatures turned in by August 11, 2021.
According to statistics provided by the San Francisco Police Department, homicide and violent crime are actually down in San Francisco, which Boudin openly stated in numerous speaking events throughout the last few months.
However, burglaries and car thefts have skyrocketed in San Francisco and dwarf cities like Philadelphia, Minneapolis, Portland, and even New York City. Walgreens has permanently closed 17 of its stores in the city. Target stores have declared all their San Francisco locations will close at 6 p.m. due to the uncontrollable amount of shoplifting.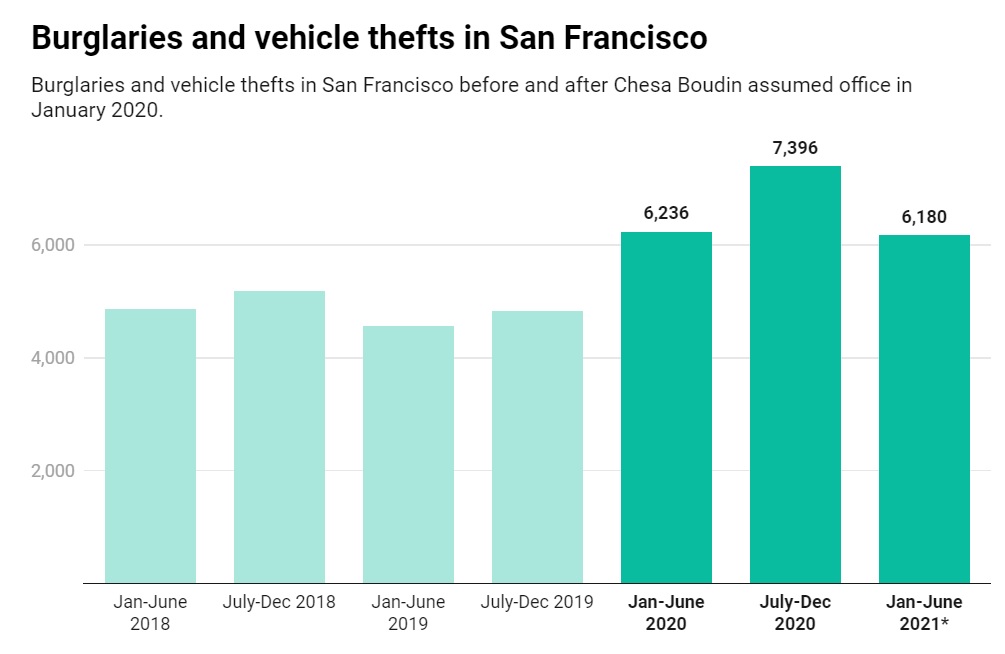 Stores are being ransacked and looted, tourists are being robbed and having human feces thrown at them for being tourists.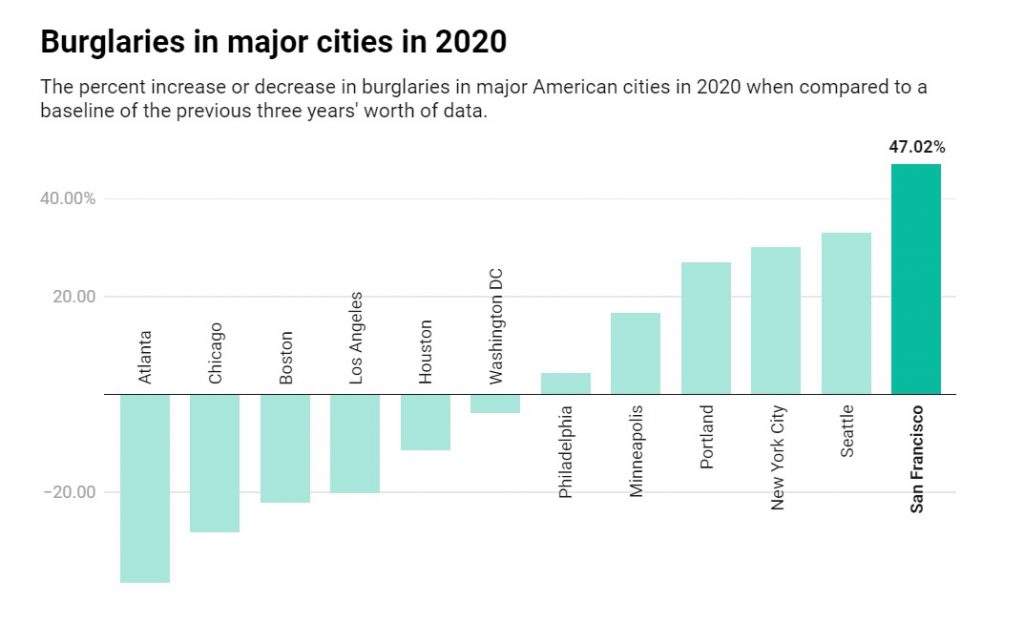 Critics of Boudin are blaming his cash bail elimination policies and reduction of pretrial incarceration ("catch and release") for the surge in 3rd world style thefts and robberies in the city. Boudin is blaming the San Francisco police for only solving 10% of reported crimes.
"There is no way we are going to lock up our way out of a problem when police are only clearing 10% of reported crimes," Boudin stated.
The Asian-American community as a whole is also blaming Boudin's weak stance on petty crimes or crimes where Asians were violently attacked.
Jack Liao's 84-year-old grandfather was viciously jump-kicked by 24-year-old Eric Ramos-Hernandez back in February 2020. The kick caused elder Liao to fly out of his walker and hit the sidewalk pavement.
"We just want my grandpa to feel safe; we want everybody to feel safe," Jack Liao said. "I'm 26 years old, and even I don't feel safe. My firm stance is that this was a violent hate crime, especially because of the rise in stigma against Asian Americans. It disgusts me that our DA and justice system is failing us and refusing to take this as seriously as a hate crime, and I find that even more ridiculous because a lot of Asian hate cases are blowing up around the country."
"When I talked to my grandfather two days ago he said he definitely wanted the attacker to be punished," Jack Liao said, also pointing to an interview his grandfather did with ABC7's Dion Lim, where the grandfather says, "I want a very strict punishment…but I don't want him to be executed."
According to Jack Liao, he and his father were only contacted by Chesa Boudin's office twice in 2020, right after the attack happened. However, the DA's office allegedly went behind Jack and his dad's back and spoke with the grandfather multiple times throughout 2020 and the case proceeded, according to Here/Say Media.
"They expected a senior citizen who was traumatized and confused and doesn't understand English, to understand legal jargon," Jack Liao said. "When old people don't understand, they just smile and nod."
Let's not forget 45-year-old Troy McAlister is a "3 Strike" offender, which means he should have faced life in prison, however, District Attorney Chesa Boudin's office felt African-American offenders should be given a substantial amount of chances to rehabilitate, rather than be sent to prison.
As a consequence, McAlister ran over and killed 60-year-old Elizabeth Platt and 27-year-old Hanako Abe on New Year's Eve while fleeing police.
From an initial investigation, McAlister should have been behind bars from other prior arrests, had the DA, police, and state parole agents communicated properly. An unanswered email about a December 2020 arrest led to McAlister's release.
"It's an email that sits in people's inboxes. Someone didn't respond because people were on vacation during the holidays and because of no action, the action was taken to release someone," Abe family Attorney Ara Jabagchourian said.
Under Boudin's watch, the city of San Francisco continues to experience "cultural enrichment."
Feature Image via Chesa Boudin IG