June 2, 2021
The Volleyball Federation of Serbia officially apologized to Thailand's team and fans after Serbian player Sanja Djurdevic made "slanty eyes" gesture on television to humiliate a Thai player's failure to score a point during a FIVB Volleyball Nations League match on Friday.
The Serbians also urged Thais not to "blow this out of proportion."
"Slanty eyes" are often used by European soccer players to openly mock Asian players and are fully aware it's used as an insult. Athletes of all colors are guilty of using this insult, but can't take racial insults from Asians when they're on the receiving end.
The Serbian Federation stated, "We apologize sincerely to the Thailand team, people of Thailand and to all of you affected by this."
"But, please, don't blow this out of proportion! Sanja is aware of her mistake and she immediately apologized to the whole Thailand team. She only wanted to show her teammates 'let's start play defense like them now,' she didn't mean any disrespect. Of course, it was unfortunate."
"It all ended up as a simple misunderstanding, in a friendly atmosphere between the players of the two teams,"
Sanja Djurdevic also uploaded her own fake apology on Instagram. The comment section has been disabled after being bombarded by thousands of angry Asians.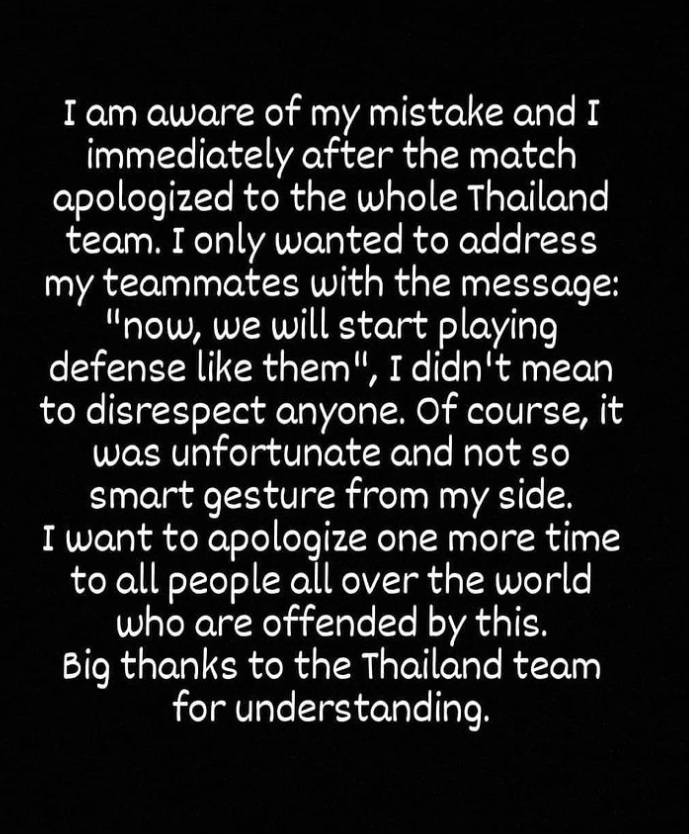 One Asian netizen wrote, "I've been insulted with the 'slanty eyes' all the time in high school sports. They apologize and do it again. Then I decided to racially insult the living crap out of them when they did it again in front of the coach. The guy attacked me, I prison shanked him in the neck with my locker key and the guy ended up in the ER and he got suspended for racially insulting me and attacking me. Coach went off on me, but saw the 'slanty eye' gesture and knew why I got racial. No one ever made fun of me again. I kept racially insulting the dude, though. You know, because they only understand 'cruelty.' I was just speaking his language. Asian Pride. Show no mercy, show no pity, show no respect."
Thai player Pleumijit Thinkaow, who was the subject of Djurdevic's insult, posted a video on her Instagram page and said she accepted Djurdevic's apology. However, many Asians are not buying the apology or accepting the "good gesture."
"Everyone. [Djurdevic] walked to our room. She said she was so stressed. She said she didn't have the intention [to offend us]. Please forgive her," Pleumjit wrote in Thai.
Further proof the Serbian's apology means nothing, they made the same gesture back in 2017, during an International Volleyball Federation competition.
Feature Screenshot via YouTube