May 15, 2021
MORGANTOWN, West Virginia—Vince Kang has been a Uber driver in the area for nearly five years and he thought he's seen it all. However, he was not prepared for what would happen to him on May 9th around 3:30 a.m. on High Street in front of The Bank.
"I pull in front of The Bank, the Bank Bar on High Street. It was like 3:30 a.m. I am waiting for the ride and I see a fight occur in front of me, a man is thrown onto the curb by the Sports Page in front of me," Kang explained to WDTV5.
The video of the brawl went viral before it was taken down by YouTube for "violating community standards."
Kang's status as a bystander came to a quick end as he watched the mob of African-Americans.
"I later see that a group of girls are carrying [the man] to my car and I see they are getting him into my car then the mob attacks the girls and me," Kang continued to explain.
Kang is then Reginald Dennyed. One person tries to pull his door off, another dents his wheel well and another person opens Kang's door and begins punching him repeatedly.
"I have got a bruise here, a bruise here and a slight cut here which might become a permanent scar," he explained.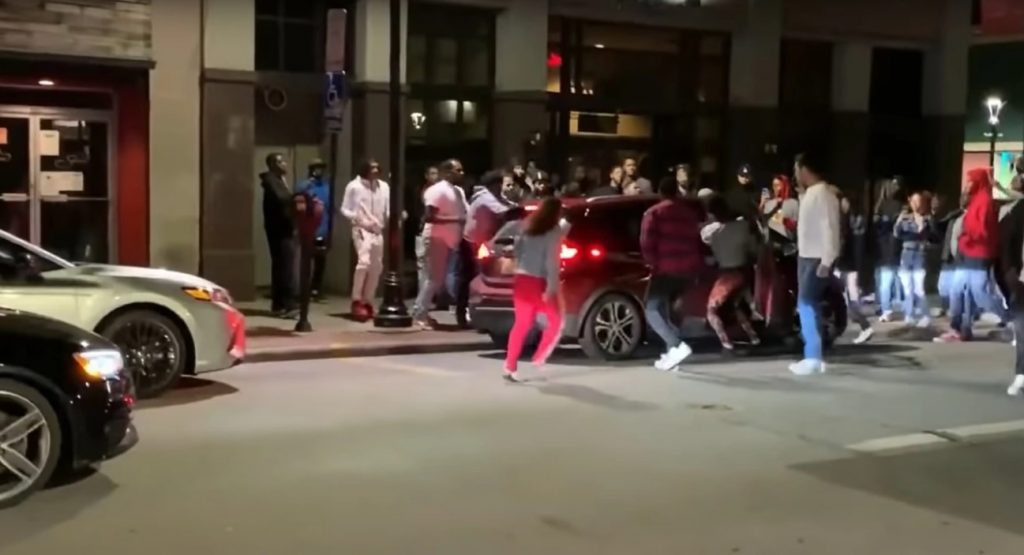 Kang managed to escape the terrifying ordeal. Now is car is in the shop and will likely cost thousands of dollars to repair.
Morgantown police stated they are investigating three separate altercations that happened that night, according to WDTV5.
An Uber spokesperson also released a statement about the incident: "We are alarmed by this senseless violence. We have been in touch with the driver and stand ready to assist local law enforcement with their investigation."
To access Kang's GoFundMe page, click HERE
Feature Screenshot via YouTube