April 16, 2021
LONG BEACH, California—A story recently went viral about a man named Brant Carnwath who allegedly stepped in to save an Asian woman being harassed by a group of "racists," and in doing so, received the "beating of his life."
The story was initially shared by Daredevil actor Peter Shinkoda's Instagram account, Jackfroot, Asian Rise, and Asian Dawn.
However, KPIX5's Betty Yu contacted the Long Beach Police Department and reached out to public information officer Allison Gallagher. Upon investigation, they informed Betty Yu the following things:
On April 6, 2021, at approximately 11:41 p.m., officers were dispatched to the 1200 block of E 4th Street regarding a battery call.
Once on scene, officers contacted a male adult victim who stated being physically assaulted by a group of approximately four male adults.
Through their preliminary investigation, detectives learned the victim was outside a business when he heard a female adult and male adult suspect having a verbal argument. He then approached them to break up the argument. The female is being described as a possible adult female, White who immediately left the scene. The suspect then proceeded to punch the victim, and at the same time, approximately three other suspects battered the victim while he was on the ground.
The suspects were described as adult males who fled the scene prior to officers' arrival.
Long Beach Fire personnel responded to the scene; however, the victim refused treatment.
The victim suffered injuries to the upper torso and self-transported to a local hospital.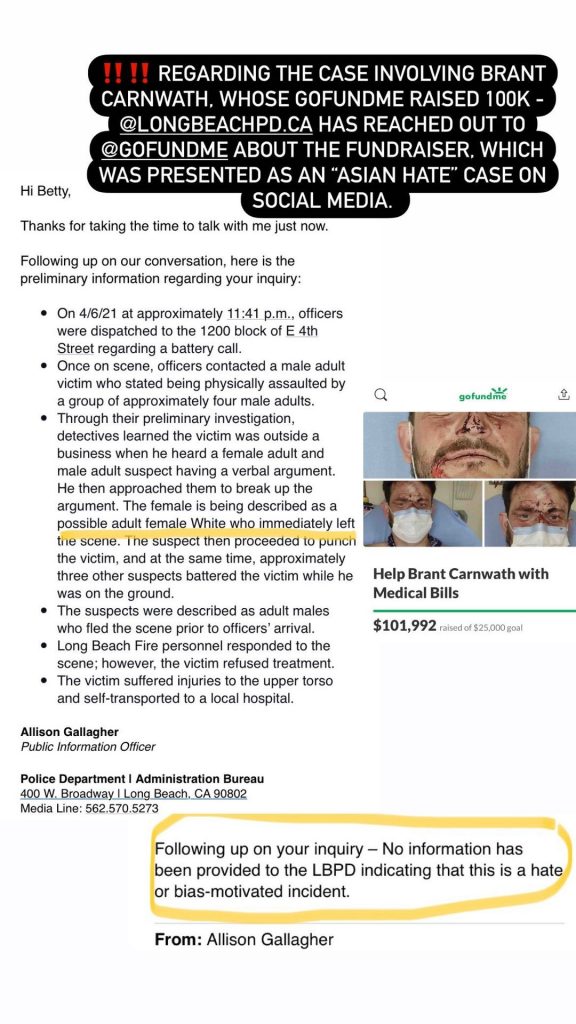 The message to Betty Yu ends with, "Following up on your inquiry—No information has been provided to the LBPD indicating that this is a hate or bias-motivated incident."
If anyone donated to Brant Carnwath's page, GoFundMe is offering a refund upon request.
The link to the GoFundMe page can be accessed by clicking HERE
Feature Images via GoFundMe