April 1, 2021
CARROLLTON, Texas—Three teachers at Blalack Middle School have been suspended (paid administrative leave) after a racist question about China on a sixth-grade social studies test was discovered.
The Carrollton-Farmers Branch ISD superintendent called the language inappropriate, disrespectful and said there was an investigation, according to Fox4.
However, parents are arguing the superintendent never admitted the language was racist and never offered an apology. The sixth-grader's family are also saying they have yet to receive an official apology from the district.
"Teaching this material to 12-year-olds is wildly inappropriate. I was like, 'I have to take a picture of this. This is crazy! I have to send this to the district or someone and demand an explanation,'" Joy Lim said.
Joy Lim was in disbelief when she looked over her younger sister's shoulder while she took her social studies quiz. It was multiple-choice. One of the quiz questions asked, "Which one of these Chinese norms is true?"
The question was followed by three choices:
It is normal in China to cut off someone's lip if they burp in a restaurant.
It is normal in parts of China to give children fifty lashes by a cane if they steal a piece of candy.
It is normal in parts of China to eat cats and dogs.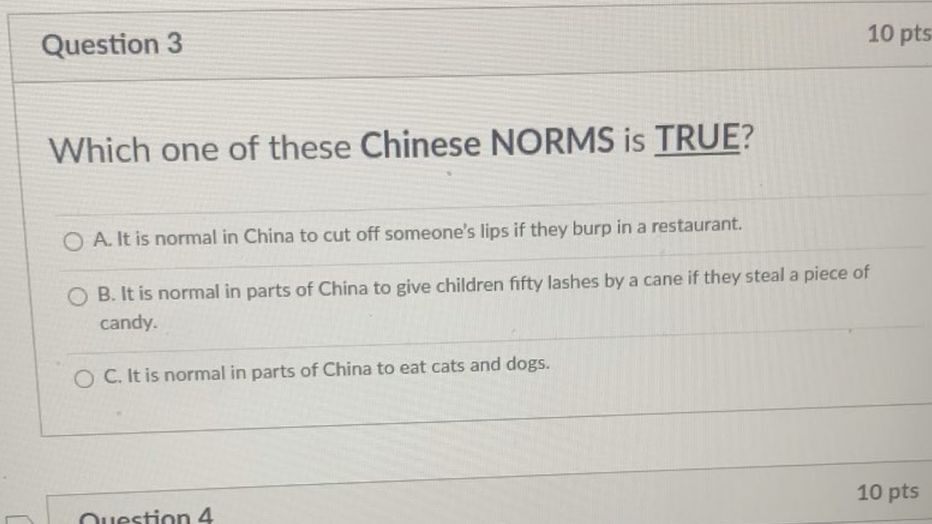 Besides making a formal complaint to the district, Lim also posted the screenshot on social media, reports Fox4.
"The email I received back was very insincere," Lim said. "It was a copy and paste of the statement they put on Twitter, and I was very disappointed."
Superintendent John Chapman posted a video statement Wednesday afternoon addressing the incident.
"Three employees used an inaccurate depiction about Asian Americans on a middle school social studies test. The words used for the question were inappropriate," he said.
Some parents at Blalack Middle School were chimed in on the matter, reports Fox4.
"They should be fired," said parent Carlos Aguilar. "They do not represent our community here."
"These people I think don't have humanity," said parent Veronica Garcia.
"I too am Asian, and I worry about nowadays something abusive something that's hate actions," said parent Jihea Kim. "It's very dangerous."
Feature Images via Facebook & Fox4