November 15, 2020
Fifteen Asia-Pacific countries, accounting for over 2.2 billion people and over 30 percent of global GDP signed the world's biggest free trade deal, seen as a huge win for China, which stands to benefit the most from the deal.
First proposed in 2012, the agreement lowers tariffs and builds on existing terms among the Association of Southeast Asian Nations—Brunei, Cambodia, Indonesia, Laos, Malaysia, Myanmar, Philippines, Singapore, Thailand, and Vietnam—and also forges a new single pact with Australia, China, Japan, New Zealand, and South Korea.
The signing of the Regional Comprehensive Economic Partnership (RCEP) at a regional summit in Hanoi, Vietnam, completely ignored the United States because President Trump exited negotiations in 2017.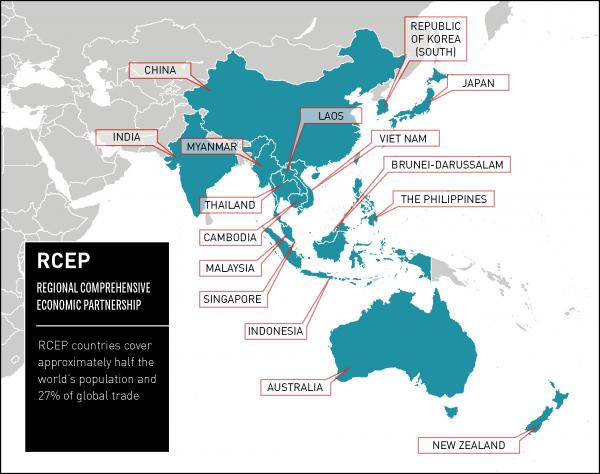 However, President-elect Joe Biden is expected to resume negotiations to enter RCEP. A free trade agreement with China and Japan will more than likely destroy American industry, especially steel and automotive as Japanese automobile powerhouses will no longer have to worry about tariffs.
American farmers and consumers will stand to benefit the most if a trade deal is signed in the near future. Cheaper industrial goods, machinery, electronics, furniture, clothing, and toys from Asia will overtake American made goods.
RCEP will also help Beijing cut its dependence on overseas markets and technology, a much-needed shift accelerated by a deepening rift with the Trump administration.
The signing itself was held virtually because of the coronavirus pandemic, leaders of RCEP countries took turns standing behind their trade ministers and signed copies of the agreement, one-by-one.
"RCEP will soon be ratified by signatory countries and take effect, contributing to the post-COVID pandemic economic recovery," said Nguyen Xuan Phuc, prime minister of Vietnam, which hosted the ceremony as ASEAN chair, reported The Economic Times.
In another historical breakthrough, "For the first time, China and Japan reached a bilateral tariff reduction arrangement, achieving a historic breakthrough," the trade ministry stated.
India pulled out of RCEP talks last November due to ongoing conflicts and disagreements with China. However, the door remains open for India, should they decide to resume talks.
Feature Image via Nikkei Asia