November 10, 2020
"I believe it was racially motivated," victim Zhang Yunhan told AsAmNews. "I cannot imagine another angle of looking at it."
Zhang Yunhan, the owner of Valley Brook Tea in Dupont Circle neighborhood of Washington, D.C. is recovering from burns after a stranger entered his shop Tuesday morning, November 10, screamed "Chinese tea!" and "Covid-19!" and pepper-sprayed him.
"I don't know what to say anymore. This type of hate crime happened to us again. This morning (9:42), this person charged into our store shouting 'Chinese' and 'Covid-19,' then attacked me with pepper spray. If you recognize him, please contact or call 911," Zhang Tweeted.
AsAmNews confirmed with the Washington, DC Metropolitan Police Department that the incident has been classified as "anti-Asian."
"I got sprayed on my face, arm, cloth. Some got into my mouth. I was choking badly when I called 911. I'm not injured. However the burning has not stopped after hours," Zhang continued to Tweet.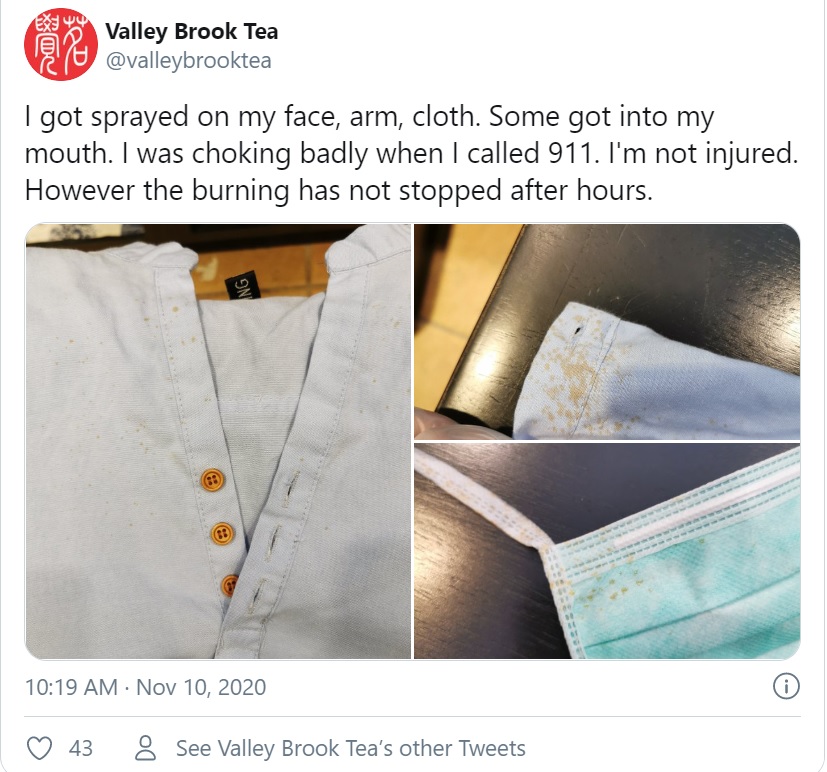 Zhang opened his business in February of this year. He serves traditional Chinese tea, not boba. He was forced to close his store for one month in March and reopened in early May due to the pandemic.
According to Zhang, he's experienced a tremendous amount of verbal and physical harassment on a weekly basis, almost every insult starting with "Chinese virus," which is odd, the racial makeup of Zhang's attackers do not fit the profile of "Trump supporters."
"It seems we're the only business that keeps getting harassed and attacked in this neighborhood. We cannot stay in business if this happens on a weekly/monthly basis. Please help us identify this individual. Thank you," Zhang wrote.
"Most people in the neighborhood are nice, but we started to see more action after Covid," Zhang stated to AsAmNews. "We are used to it. I see it like car accidents. Sometimes bad things happen."
Zhang moved to the United States from China in 2009 to study.
Featured Screenshots via Twitter