October 24, 2020
TAIPEI, Taiwan—Wednesday morning, October 21, a woman alleged a foreign national assaulted her after she criticized him for letting his dog loose to chase feral cats at a park in New Taipei City, according to Taiwan News.
Around 2:30 am on Wednesday morning, a 38-year-old old woman who only wants to be identified by her surname, Chen, was walking through Ren-ai Park in Taipei City's Yonghe District, when she spotted a muscular foreign national man wearing a camouflage compression shirt, blue pants, and a baseball cap, according to her Facebook post.
Chen stated the foreign national was walking a large black dog, which he eventually unleashed to allow it to chase feral cats in the area. Walking around late at night in Taiwan, South Korea, Japan, Singapore, and a handful of other Asian countries is much safer when compared to other Western countries. It's not even an afterthought.
Chen said she saw the dog chase a cat up a tree, it then immediately spotted another cat and began pursuing it as well. Chen verbally criticized the foreigner, "Don't let your dog chase cats!"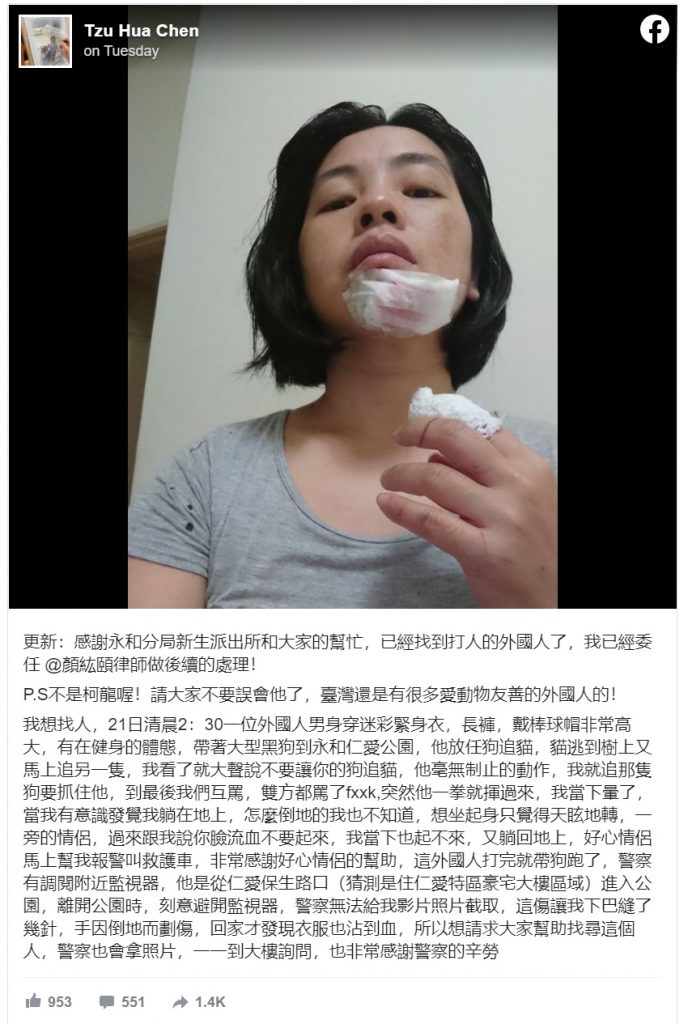 She tried chasing down the dog to restrain it, however, the foreigner became agitated by her actions and the two began to argue. Chen alleged the man suddenly cold-cocked her in the jaw, knocking her unconscious.
When she regained consciousness, Chen was dazed and could not immediately compute where she was or what happened. She was unable to immediately get up because she felt dizzy and noticed she was bleeding from a gash on her face.
A nearby couple saw the incident unfold and immediately called the paramedics. The assailant fled the scene with his dog.
After reviewing surveillance footage, the Yonghe police later identified the suspect as a 38-year-old Canadian man who works in Taiwan as an English teacher and goes by the first name "Danny," according to Taiwan News.
Authorities have confirmed "Danny" visited the local police station as ordered and is aware an investigation is underway. Chen stated she has hired an attorney and is preparing for further legal action.
Feature Images via Taiwan News