September 22, 2020
One of the victims of this alleged father and daughter duo recently committed suicide after losing his life savings back in 2009, he was in his early 70s when he lost everything. His son, who wishes to only disclose his surname, Yeh, tells the heart-breaking story.
"My dad hanged himself inside his closet with a coat hanger. He's been struggling for 10 years trying to survive and prevent foreclosures on his properties. He eventually lost it all and it's all because of Sam Choi of SYC Construction," Yeh stated.
"My dad owned six apartment buildings throughout Long Beach and greater Los Angeles County. One of his tenants caused a fire in one of his buildings and he ended up using a specialized fire damage restoration construction company named SYC Restoration," Mr. Yeh explained.
It would be the greatest mistake his dad would ever make.
"The owner of the company was Sam Choi—his real name is Sungyul Choi and he was the owner of SYC Restoration. Things went well. The guy fully repaired the damage and my dad decided to use him again on a few other renovation projects. That's when things went wrong," Yeh continued.
Choi would eventually swindle Mr. Yeh of his entire life savings, close to $450,000. He would do a fraction of the work and demand money to continue; taking advantage of Mr. Yeh's age. This would continue for several months. Working, stopping, demanding more money, working, stopping, demanding more money. Choi would eventually run-off with only 20% of the job actually completed.
"Out of nowhere, one of Sam Choi's ex-employees shows up to my dad's building. I was there with my dad at the time and the guy said he was sorry for what happened to us and said he had nothing to do with it," Yeh's son continued.
"He spilled the beans on everything. The company was run by Sam Choi's daughter, Erica Choi, also known as 'Rica' Choi, Sunny Hills high school graduate 2008, and they were actually swindling dozens of people with the same type of scam. She was the mastermind. I remember calling the company and speaking to a woman, I'm assuming it was her. The guy even gave us phone numbers of other victims."
Combined, Choi's other victims also lost over $500,000.
"Turns out Sam Choi had a sex addiction and was spending close to $5,000 a night in those Koreatown nightclubs and having sex with 'bar girls' in private karaoke rooms. His daughter was spending the money on her U.C. Davis education," Yeh explained.
"We eventually sued Choi and won with the help of other victims who came forward with the help of the ex-employee. But it didn't help. The state of California just revoked his contractor's license," Yeh said.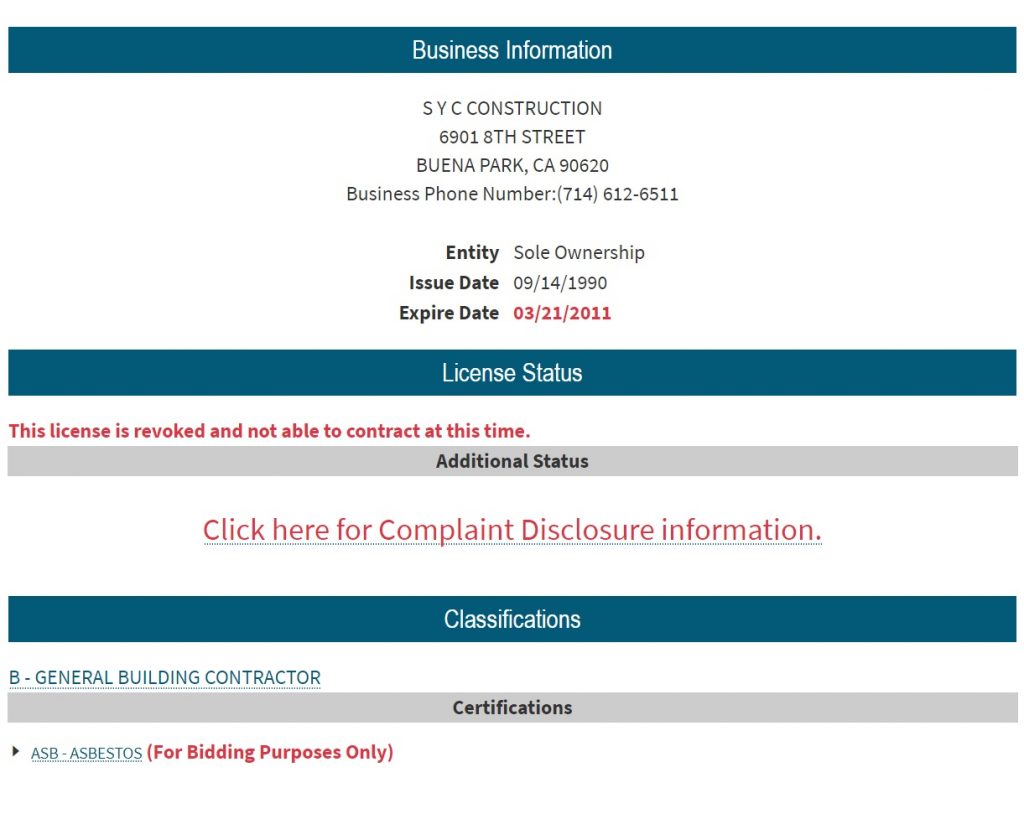 "My dad lost everything. It was a ripple effect. After losing all his money, he couldn't make loan payments on apartment buildings he couldn't rent out because SYC's didn't complete the job. I tried my best, but I'm middle-class at best and the financial stress was too much for him."
According to Choi's other victims who are still pursuing him—legally, as of 2020, Choi has been working as a handyman and changing the name of his company and his phone number after being discovered as a fraud by his victims.
He's been using contractor license numbers of his friends to sign jobs and swindle thousands of dollars from innocent elderly Asian-Americans.
Yeh had a message for Sam and Erica Choi. "I want people to know how evil you guys are. You think you're just stealing money, but you're actually destroying lives and I don't ever want it to happen to anyone else again," Yeh started tearing up. "Anyone who sees these as*holes, steer clear. Protect your parents, your grandparents."
*UPDATE: September 23, 2020*
A friend of Erica Choi reached out to Asian Dawn about 24 hours after this article was published and stated Erica had nothing to do with her father's business dealings and the blame should solely be on her father.
When we asked why someone would lie about her involvement, she would not clarify or offer any type of proof she had nothing to do with these scams. Erica's friend simply said, "Someone has a vendetta against her."
Feature Images via RipOffReport