September 8, 2020
On August 23, Jacob Blake Jr. was shot seven times from behind during a confrontation with police officers in Kenosha, Wisconsin. There was a warrant for Blake's arrest for third-degree sexual assault, trespassing, and disorderly conduct, according to USA Today. Nevertheless, Blake's shooting sparked violent riots from Black Lives Matter protesters.
After the sexual assault, Blake took the victim's debit card and car keys before fleeing in her vehicle. Blake was also armed with a knife during the police altercation and by today's whacky standards, he's also guilty of cultural appropriation because the knife he was armed with was a karambit, an Indonesian knife.
Many are blaming the officer for shooting Blake in the back several times. However, Texas LTC (License to Carry) shows how fast an armed suspect can turn around and fatally shoot an officer. Remember, there were multiple times officers were unable to see Blake's hands when he turned around inside his vehicle.
Kamala Harris, Vice President Joe Biden's running mate, decided to visit members of the Blake family on Monday, September 7, and spoke with Blake Jr. by phone.
National Civil Rights Attorney Ben Crump released a statement on Sen Harris' visit with the Blake family. Crump wrote "In a moving moment, Jacob J. told Sen. Harris that he was proud of her, and the senator told Jacob that she was also proud of him and how is he working through his pain. Sen. Harris also discussed the policy changes that she and Vice President Biden will seek."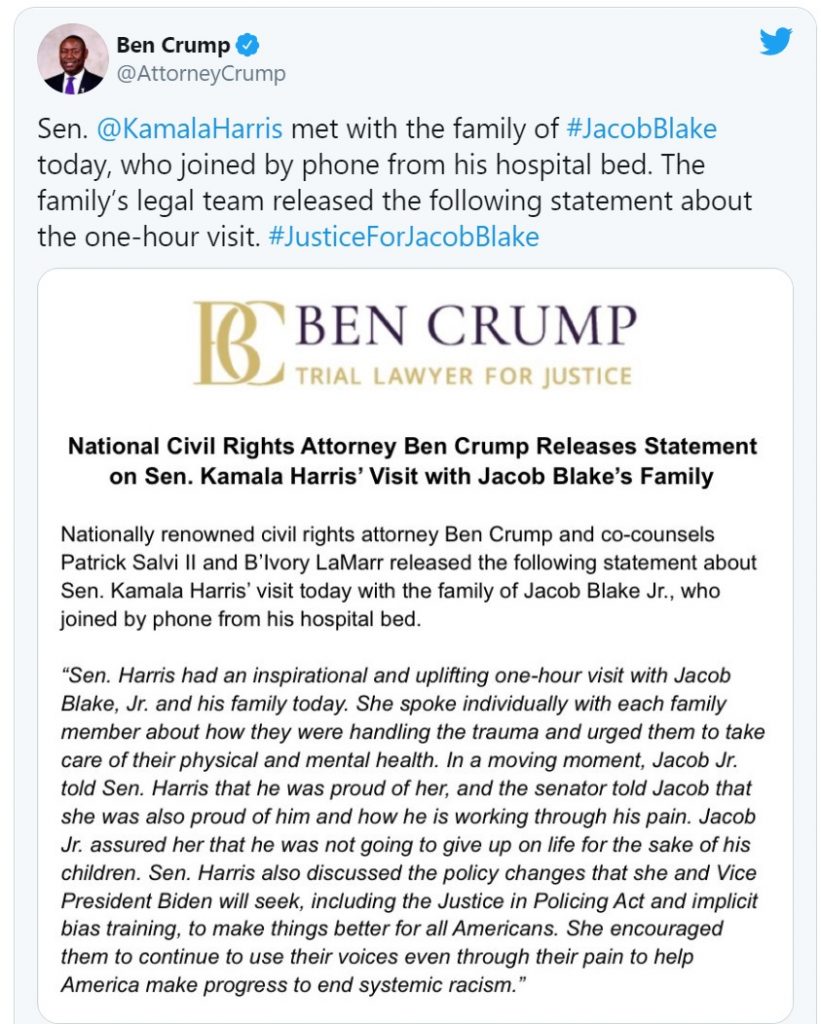 For perspective, imagine police officers shot alleged rapist Supreme Court Justice Brett Kavanaugh after he failed to comply with officers. President Donald Trump visits Kavanaugh in the hospital and tells Kavanaugh how "proud he is of him for working through his pain." Imagine the outrage Trump would receive for showing remorse to an alleged rapist?
Biden also visited Kenosha last Thursday and like Harris, he visited the Blake family, including racist, antisemite Jacob Blake Sr. Biden called for the police officers who shot Blake, Rusten Sheskey, to be criminally charged.
Feature Images via Wikipedia & Denver Channel