August 29, 2020
18-year-old Jessica Zhang found herself in a compromising position after she posted a video of herself at a gathering with friends without practicing social distancing or wearing a face mask. Cornell University students are furious over her "selfish" actions and have started a petition to have her expelled, according to The Washington Post.
"Jessica Zhang has shown that she does not care to comply to public safety measures and wants to put other citizens at risk for the sake of her own entertainment. These are NOT what Cornell students value and she is a horrible representation of what the university stands for during a GLOBAL PANDEMIC," the petition said.
"We need to hold these students accountable for their actions. If this is the type of behavior that Jessica Zhang is willing to publicly show, she does not need to be a student at Cornell—risking the lives of many other underprivileged students and Ithacans who do not have the resources/means to leave Ithaca or travel back to their homes."
People started flooding Jessica Zhang's TikTok account, only many flooded the wrong Jessica Zhang account. It got so bad, Jessica Zhang "A" had to change her bio and wrote: "I go to Harvard not Cornell (the girl on the news isn't me)."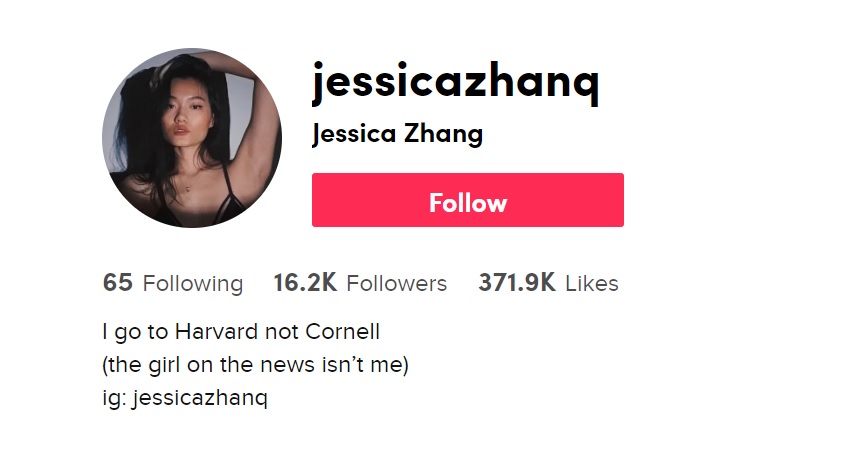 As a consequence, people began circulating a picture of Zhang taken from her Instagram account, which showed the caption, "The people who slide up saying 'you're not social distancing' are the ones that wouldn't have been invited anyway."
Zhang soon released an apology via social media addressing the incident. She made very clear the maximum amount of people she partied with were twelve people and everyone who attended the party tested negative for COVID-19. She also pointed out the picture circulating around was taken out of context.
Zhang stated the picture with the caption circulating around was from the past and she was taking a "self-deprecating jab" at herself because she was "clinically depressed" at the time because her friends partied without her.
Jessica Zhang's apology can be accessed by clicking HERE
"So to the parents and students that are using me as a scapegoat, threatening me, and harassing me and petitioning me to get me expelled, please check your facts next time before you attempt to ruin another teenagers life because the next kid might not have the platform I have to defend themselves," Zhang continued.
Cornell University is aware of the situation, however, whatever punishment Zhang receives will remain confidential. Many netizens expressed their disdain for the hypocrisy of Cornell and its student body, by pointing out how quickly they're willing to scapegoat an Asian-American student.
Others are calling for the same treatment for other students in other universities. By using social media to identify protesters not practicing social distancing and not wearing a face mask and getting them expelled from whatever colleges they're attending.
Feature Images via Inside Edition