May 24, 2020
Comedian Godfrey, best known for movie parts in Soul Plane, Chain Reaction, Zoolander, Original Gangstas, according to his IMDb page was recently interviewed by VLADTV, which was posted on YouTube May 21.
In this interview, he begins by stating it's unfortunate and messed up Asians are being attacked because of the coronavirus pandemic, but then ends his statement with "How do you think we [African-Americans] feel? We're treated like a fu*king virus."
Godfrey continues to state that Asians should be physically assaulted for what regional Chinese government officials did to African nationals in Guangzhou.
He later rants from blaming specific elements of the Chinese government to blaming the entire Chinese race and then agreeing Asians as a whole should be targeted "Eye-For-Eye." A verse from the Old Testament "Eye for eye, tooth for tooth, hand for hand, foot for foot," Exodus 21:24.
Had these views and statements been the other way around and someone like Ken Jeong or Jo Koy said Asians should assault all African-Americans for something a small percentage of the population did; they would lose their jobs immediately and be forced to turn tricks on Sunset Blvd to make a living.
The actual numbers are very telling, however. According to the 2018 U.S. Justice Department Victimization Chart, which was released in September 2019, shows Black-on-Asian violent crime is 280x more prevalent than Asian-on-Black violent crime. Nearly 28% of all violent crimes committed against Asian-Americans were perpetrated by African-Americans. At the same time, less than 0.1% of all violent crimes committed against African-Americans were perpetrated by Asian-Americans. If these numbers were reversed, the African-American community would be calling for Asian heads.

Blaming the Asian-American population for the actions of China has been an ongoing and loud voice within the African-American community as a whole. They can't seem to understand not all Asians are Chinese. The Chinese are just one ethnic group within the Asian race.
The New Black Panthers recently launched protests in front of Asian-American restaurants across the United States on May 19. One protest, in particular, was in Washington D.C., in front of two random Chinese restaurants, four miles away from the Chinese embassy. Instead of taking up their grievances in front of the Chinese embassy, the New Black Panthers decided to protest in front of random Asian-American owned restaurants four miles away. They also call for the boycott of all Asian products.
Asia First created this poster/meme to help the New Black Panthers avoid products made by Asian owned companies. Perhaps the New Black Panthers thought Asian owned businesses were only nail salons, restaurants, and liquor stores and didn't take into account half the major corporations in the world are Asian owned?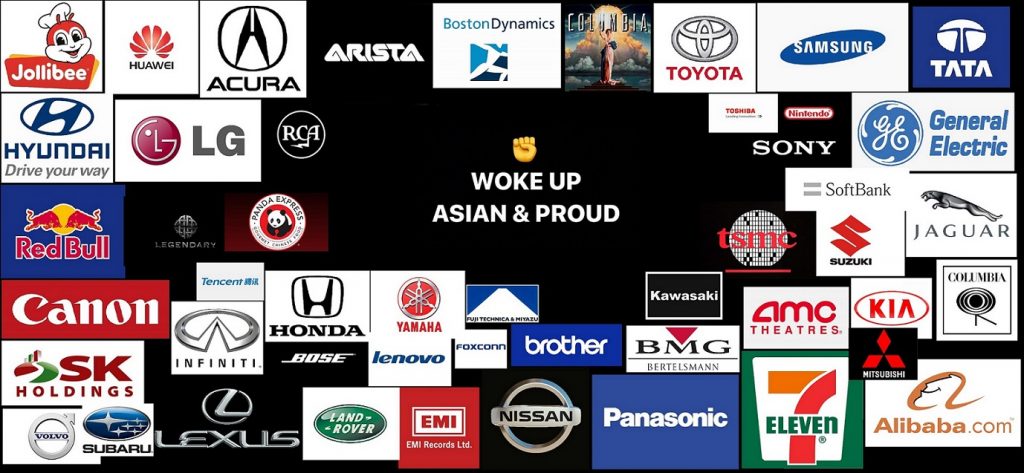 Also, schematics are being created to show which parts in Apple iPhones are Asian products and which car parts in American and European cars are Asian technology. The Duramax engine used by GM/Chevrolet was co-developed by Isuzu, an Asian company.
The Mercedes CLA is actually an Infiniti (Nissan). The Mercedes X-Class pickup truck is actually a Nissan Frontier. These detailed schematics will help the New Black Panthers and disgruntled African-Americans avoid all Asian products so they can feel better about themselves and live a life free from modern technology and return to the 1970s.
Feature Screenshots via VLAD TV