April 23, 2020
A vandal destroyed the windows of seven Asian-owned businesses in South Bay early Wednesday morning. Nothing was taken. Nearly all the businesses were in the Berryessa neighborhood of San Jose, reports Fox2 KTVU.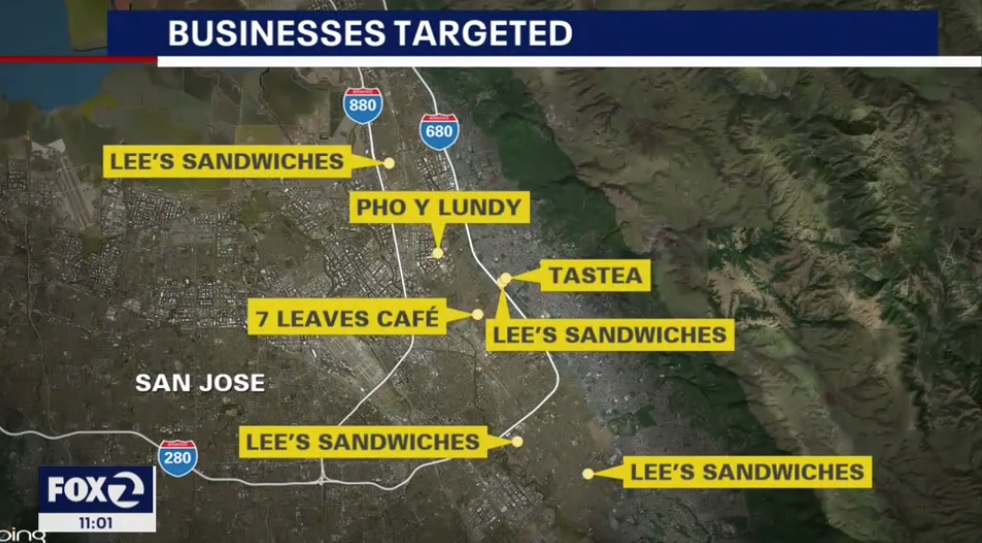 At 5:50 am, 7 Leaves Cafe owner Vinh Pham was alerted when a vandal smashed the windows at Tastea, four Lee's Sandwiches, and Pho Y Noodle House.
"It was heartbreaking because we are trying to operate like a normal day-to-day business and this creates concerns for our employees," stated Vinh Pham to Fox2 KTVU.
All the windows at 7 Leaves Café were destroyed and Lee's Sandwiches had six windows smashed in. Thang Le, who owns three other Lee's Sandwiches and Milpitas in San Jose said all of his businesses were vandalized.
Le stated he thought it was something personal at first. "Then after awhile, I heard he was hitting other stores, other restaurants as well," stated Le. "It was scary in the beginning and now I'm trying to figure out why he was going around doing this," Le said to Fox2 KTVU
CCTV footage at one of Lee's Sandwiches was able to capture a glimpse of the vandal with a crowbar and then him leaving in a pick-up truck.
Feature Screenshot via Fox2 KTVU