April 1, 2020
There have been a string of vandalism along with xenophobic and anti-Asian harassment and attacks all around the world as early as January, the United States not being the exception.
The FBI over the weekend issued a warning to all Asian-Americans that more racial attacks and harassment would surge in the months to come and to take proper precautions. From three Asian family members being stabbed and slashed at Sam's Club in Texas, a Filipino man beaten at a Seattle supermarket parking lot while other people screamed "Go back to China!" to an 8-year-old Asian child being denied entry at a Costco for wearing a mask. The list goes on-and-on.
According to the Yakima Herald, the Minado Buffet in Yakima, Washington was vandalized Sunday morning around 3:30 a.m. Owners Tony Yan and Lisa Li contacted the Yakima police department to report that someone spray-painted a racial slur on their wall and smashed their windows. The restaurant opened last October and was forced to close like so many other restaurants on March 17 when Gov. Inslee ordered a statewide shutdown.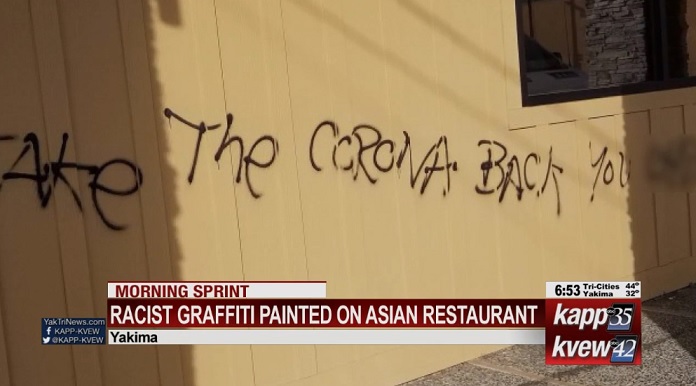 "Vandalism of any kind, especially vandalism that is targeted toward a specific ethnic group, is contrary to the values of the Yakima community," Yakima Mayor Patricia Byers stated in a press release on Tuesday. "It is critical during the current public health emergency that our community bands together."
Screenshot via kappABC35