November 26, 2020
SANTA ANA, California—Investigators are asking for the public's help in identifying two women caught on CCTV earlier this week as they vandalized statues at a Santa Ana Buddhist temple that has repeatedly been the site of similar attacks, according to KTLA 5.
The pair was captured by security cameras on Sunday, November 22 as they spray painted the name "Jesus" on multiple statues in the courtyard of Huong Tich Temple at 4821 W. Fifth St., the Santa Ana Police Department said in a press release.
The incident is being investigated as a hate-crime because of the fact the name "Jesus" was sprayed painted on 4 of the 15 statues vandalized. The damage amounted to be around $6,000, according to KTLA 5.
It's the sixth Buddhis temple to be vandalized in the last 30 days.
Volunteers were working to restore the statues on Wednesday but said they would never be in the same condition as before.
"What their motive is and why they would pick on them, I don't know," Santa Ana Cpl. Anthony Bertagna said.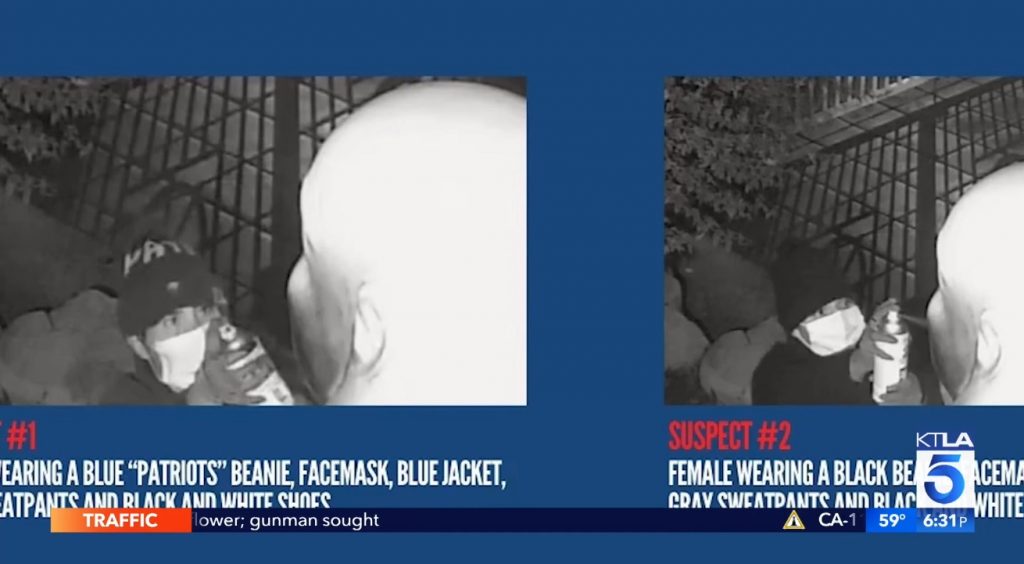 Buddhism is about 600 years older than Christianity and is sometimes targeted by certain sectors of Christians who are annoyed the religion is older than Christianity and is the inspiration for Christian's Golden Rule, "In everything, do to others what you would have them do to you," (Matthew 7:12).
The teachings of Buddha often made their way through trading routes between the Roman Empire, India, and Ancient China. "Whatever is disagreeable to yourself, do not do unto others" (Lord Buddha, Udana-Varga 5.18 – 6th century BC).
It's hard saying your religion is truth when it arrived 600 years after another religion that's already being practiced.
One of the women is seen wearing a blue New England Patriots beanie, a blue jacket, gray sweatpants, and black and white shoes. The other wore a black beanie, black sweatshirt, gray sweatpants, and black and white shoes, according to police.
Both had their mouths covered by a mask.
Anyone with information on their whereabouts can contact Detective Wilson at [email protected] or 714-245-8551. Anonymous tips may be submitted via 855-847-6227.
Feature Screenshot via KTLA 5