September 17, 2020
Alhambra is a relatively quiet city located in the western San Gabriel Valley of Los Angeles County, about eight miles from Downtown Los Angeles with an Asian population around 50%. For the past year, the bodies of three Asian women have been found in Almansor Park in the city of Alhambra.
According to San Gabriel City Watch, city maintenance workers discovered the body of 59-year-old Hui Qin Li submerged in a duck pond in Almansor Park on December 12, 2019. Authorities are not releasing information on the case. The investigation is ongoing.
On Friday, January 17, 2020, the body of a 71-year-old woman with "severe dementia," later identified as Shu Lan Chao was discovered in a drainage ditch in Almansor Park, according to KTLA 5. Chao was only partially clothed. She was reported missing two days earlier. Los Angeles County Sheriff's Department's Homicide Bureau stated her death is "suspicious."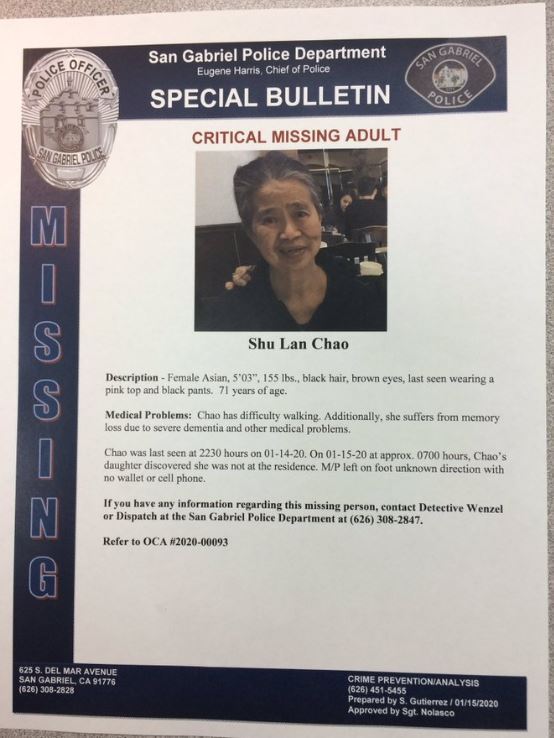 No other information has been released since the investigation is ongoing.
On Tuesday morning, September 15, 2020, another woman's body was discovered in Almansor Lake, according to Alhambra Source. Just before 7 am, Alhambra Police responded to reports of a female body in the lake.
The woman's identity has not been released. However, she is described as Asian in her late 60s, according to Sgt. Debbie Gomez. There is no suspicion of foul play or persons of interest as of yet. However, police acknowledge three separate bodies found in the same area is "suspicious."
Is it a coincidence the bodies of three Asian women were found in nearly the same location in less than a year? What are the odds three Asian women similar in age are found in the same location?
Feature Image via KTLA5