September 5, 2020
An Asian couple was spat at and attacked in Manhattan on Wednesday night, September 2, by a man on a bike who also ranted about China, according to the New York Post.
The victims, a 29-year-old man, and a 28-year-old woman told authorities they were targeted by the suspect at East 19th Street and Broadway around 8:30 pm.
"You Are Chinese, God hates China, China has virus!" the man screamed to the duo before spitting on them. The assailant then rammed his orange bike at the Asian man, who suffered from bruising and scratches from the attack.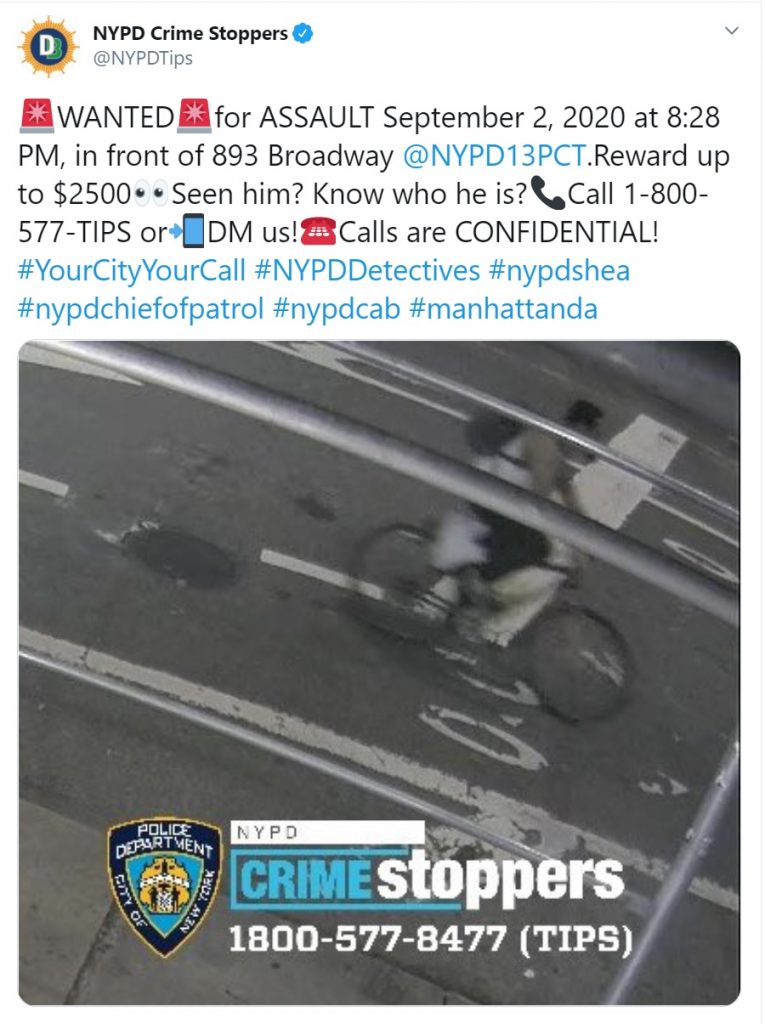 The assailant fled the scene.
These are one of many attacks and robberies Asian-Americans have experienced in New York City for years. Just recently, on August 7, He Xie's grocery store at 154 East Broadway was robbed by two individuals.
NYPD released a statement on the incident:
"On Friday, August 7, 2020 at approximately 1847 hours, two unidentified male individuals did enter He Xie grocery store at 154 East Broadway, brandished a firearm and demanded cash. The individuals went over the counter and removed an undetermined amount of cash from inside the register. They also removed a cell phone, credit cards and a bag belonging to a 59-year-old male victim and a 43-year-old female victim. The individual then fled on foot. There were no injuries reported.
Individual #1 is described as a medium-skinned adult male, medium build and last seen wearing a gray t-shirt with the word "Brooklyn" in front of it, gray shorts, gray boots, gray and blue New York Yankees hat, dark face mask and carrying a black book bag.
Individual #2 is described as a dark-skinned adult male, heavy weight and last seen wearing a dark blue t-shirt, blue jean shorts, black sneakers, black face mask, black hat and a silver long chain."
Anyone with information in regard to this incident is asked to call the NYPD's Crime Stoppers Hotline at 1-800-577-TIPS (8477) #nypd #7precinct #chinatown #manhattan
Another incident on Friday night, August 28, a homeless African-American man walked into Chinatown and smashed three window panes of Fay Da Bakery and threw a rock into the window of the New Shanghai Deluxe store on Canal. He was arrested shortly after.
Feature Screenshot via NYPD Crime Stoppers