September 4, 2020
In a closed school board meeting held on Wednesday, September 2, Sequoia Union High School District's superintendent in Northern California recommended firing Carlmont High School vice principal Jennifer Cho for having inappropriate relationships with former male students, according to the Mercury News.
Recently, a Change.org petition launched in May of this year, demanded that vice principal Jennifer Cho be held "accountable for her actions" with students at the Carlmont campus over the past decade. The creation of the page triggered an investigation by the school board.
San Mateo County chief deputy counsel Claire Cunningham released a statement "Given the persistence of these rumors and the volume of comments on the Change.org petition, (Superintendent Mary) Streshly determined it was important to conduct a more vigorous investigation to ensure a comprehensive evaluation of the concerns raised by former students on the Change.org petition.
This investigation is not yet completed, in large part because of the difficulties in contacting witnesses and scheduling interviews due to the impacts of COVID-19. If anyone has relevant information to share, we urge them to contact the District right away to be included in the investigation."
According to Mercury News, Cho was removed from her position at Carlmont High in late May and reassigned to the district office. She has now been placed on administrative leave pending the investigation's outcome.
"I've made this petition as a former student to gather support from current students and alums at carlmont high school who are all aware of Mrs Chos predatory behavior. Jennifer Cho has allegedly slept with at least 5 students and was investigated after being caught sleeping with a minor. The principal Ralph Crame has since ignored the issue despite Cho being investigated. Allowing a child predator to have a high power position in the school administration and allowing them to hand out diplomas is disgusting. Many students feel angered and uncomfortable that this behavior is tolerated by the school, let alone the principal. This is a form of grooming and a big safety issue for students that are attending carlmont," states the Change.org petition.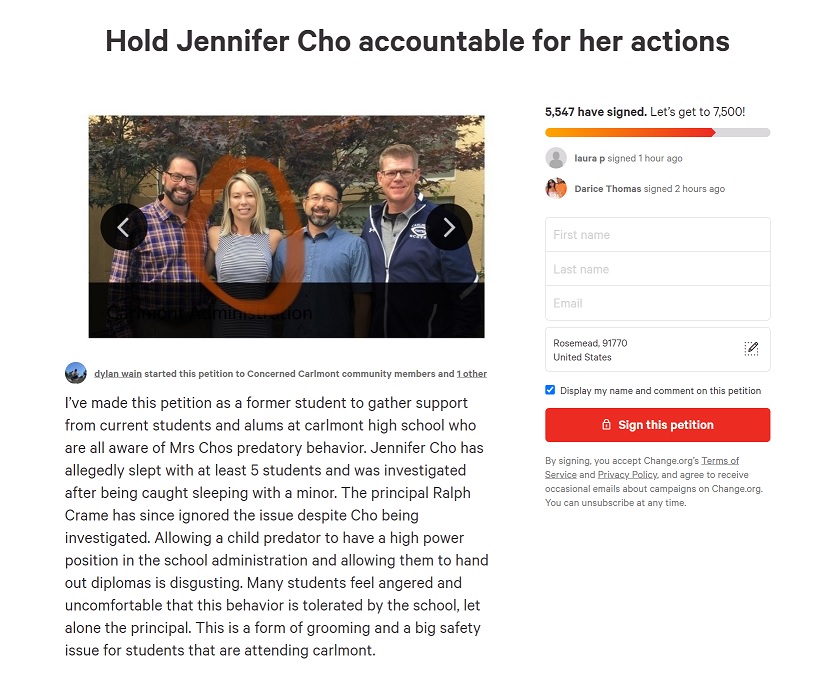 Superintendent Streshly sent out an email to Carlmont High staff:
"As superintendent, my top priority is to create an environment where our students and staff feel safe and protected by the District's leadership," Streshly wrote. Near the end of the message, she added: "I understand that Carlmont is a close community, and I further recognize that the story that ran this morning is creating a multitude of feelings within every sector of the Carlmont family."
Cho's attorney, Shannon DeNatale Boyd, denied her client had any "sexual or otherwise romantic relationship with any student."
"The District has not completed its investigation, thus the validity of your alleged statement on behalf of the Superintendent is questionable at best," Boyd wrote in an email.
Cho was actually investigated for similar allegations back in 2017 after a former Carlmont coach reported her allegedly flirtatious behavior with student-athletes. Cho was placed on leave after an investigation found she had exchanged inappropriate text and social media messages with students. Some contained pictures of Cho in "revealing bathing suits." However, no further serious evidence was discovered during the initial investigation and Cho was reinstated to her position.
Administrators also discovered Cho—who is currently on administrative leave pending an investigation—is using district email to correspond with one of her former students, who now attends an out-of-state university, according to the Mercury News.
Feature Image via Change.org