September 4, 2020
After the success of China Mac and actor William Lex Ham's GoFundMe campaign goal of $10,000 to help Chinese businesses in New York's Chinatown, Mac and Ham's movement #TheyCantBurnUsAll is going to Los Angeles for a rally tomorrow, Saturday, September 5.
The rally will begin at MacArthur Park at 3 pm, followed by a two mile march and a rally finale at 5 pm.
Join @ChinaMac, @WillLexHam, and friends for #TheyCantBurnUsAll Unity Rally and March Against Hate Crimes and Racism will be held at MacArthur Park!
3pm Rally, 4pm 2 mile March, 5pm Finale Rally
Anti-Asian Hate Crimes are on the rise, and we cannot let our community suffer in silence any longer!!! We MUST realize that as diverse the Asian diaspora is, Asians are generally treated the same in our country. So.. WE MUST UNITE, STAND UP, AND FIGHT BACK!!!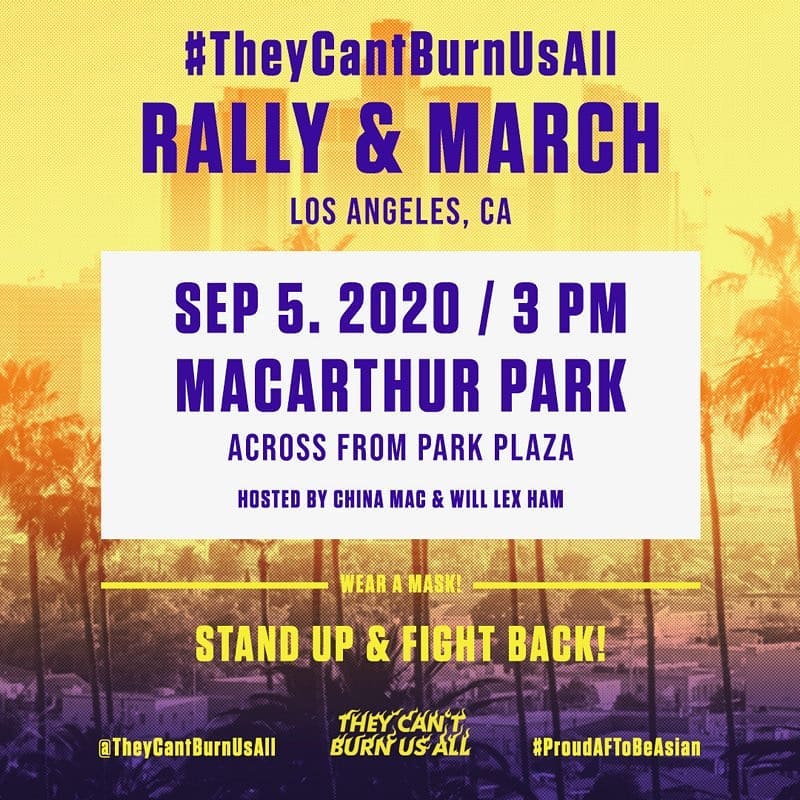 We're coming together to embolden and empower ourselves with this fighting spirit!
All allies are welcome! We are only stronger together!
Please make signs, wear masks, social distance, and bring water to keep hydrated
Feature Image via @theycantburnusall